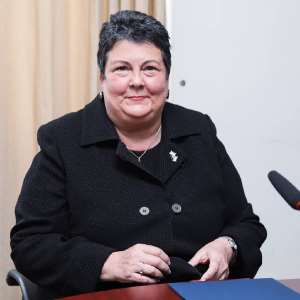 Madam Virginia Palmer, the United States of America (USA) Ambassador to Ghana
Madam Virginia Palmer, the United States of America (USA) Ambassador to Ghana, has urged the populace to make everyday a "Black History" day to help correct the ills of society.
She said the significance of the "Black History Month" was to remind humanity of the injustices perpetuated daily in all facets of society and the commitment needed to fight them and harness resources to create prosperity for all.
Madam Palmer said this at a wreath laying ceremony held in commemoration of the 155th Anniversary of the birth Dr W. E. B. Du Bois, a Sociologist and Pan-Africanists, who started the Africana Encyclopedia project to document the history of Africans.
The ceremony was part of activities to celebrate the Black History Month in February, dubbed: "Black Resistance Month", which is to highlight black and African heritage as a commitment to "Diversity, Equity, and Inclusion."
In her remarks, she noted that just after the slave trade and civil war in America, many African-Americans were pushed back into economic servitude, with many of those injustices persisting today across the globe.

"We must constantly work against them and work for justice for all. Ghana and the US are democratic countries but they are not perfect," the Ambassador said. 
She said Dr Du Bois was an inspiration and worked for the common good of the oppressed, adding that it was just to honour his memory.
Mr Japhet Aryiku, Executive Director, W. E. B. Du Bois Museum Foundation, said, everyday was an opportunity to learn from the ideals and legacy of the Pan-Africanist to help build a better society.
He said Ghana still experienced ethnocentric comments, tribal abuses, discrimination, exploitation of the poor and vulnerable in communities and various fields of endeavours.
"We, at Dr Du Bois Museum Foundation, promote people living together, respecting each other and accepting each other's difference as a plus, a principle Du Bois stood for," Mr Aryiku said. 
He said the Foundation was in negotiation with Government to redevelop the Centre, adding that by the end of March, the approval hopefully would be given. 
The Centre when redeveloped into a museum complex would have W. E. B. and Shirley Graham Du Bois Memorial Pavilion, which would hold the mortal remains of Dr Du Bois and ashes of Shirley Graham Du Bois. 
It would serve as a destination for scholars, artists, heritage tourists, students and Pan-Africanists, among others.
GNA