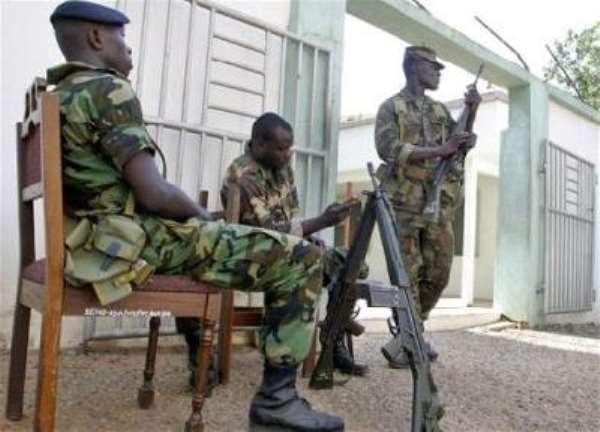 Defence Minister, Kwame Addo-Kufuor on Thursday cut the sod to commence the armed forces housing project that is expected to improve the accommodation situation of the Ghana Armed Forces (GAF).

The project, which is to be funded with a loan of $20 million approved by Parliament, would consist of a total of 18 four-storey blocks of flats that would be constructed in garrisons throughout the country.

Of this number, 11 of the flats would be constructed in Accra; two each would be in Takoradi, Tema and Ho, with one in Tamale.
With each block of flats housing 16 families, the project is expected to accommodate 176 families in Accra and 288 families nationwide.

The project, which covers accommodation for both officers and other ranks, would be completed in the middle of 2008.

At a short ceremony at the Duala Lines at Burma Camp in Accra, Dr Addo-Kufuor assured all service personnel that the Government was aware of the accommodation problem and was doing everything possible, within the constraints of the economy to provide the needed dwelling units for troops.

"The NPP Government recognized the importance of security in the development of the nation and will spare no effort in ensuring the provision of the necessary support for the general well being of service personnel and their families", he said.

The Minister said the starting of the project signified a step in Government's efforts to provide the conditions that would enable the armed forces discharge its duties to the nation.

He mentioned the retention of over-aged personnel due to the lack of funds to release them as another factor contributing to the accommodation problem.

To this end, the Ministry of Defence (MOD), he said, was seeking funds to effect the release of the over-aged service personnel - an action that would free about 600 accommodation units that would be available for serving personnel of the GAF.

The MOD has since 2001 embarked on various projects aimed at improving the accommodation situation. To date, a total of 62 accommodation projects at a total cost of about 80 billion cedis have been undertaken in garrisons across the country.

Present at the occasion were the Deputy Defence Minister, Sampson Kwaku Boafo; the Chief of Defence Staff, Lt. Gen. J.B. Danquah; Service Chiefs, senior military officers and troops.
Source GNA