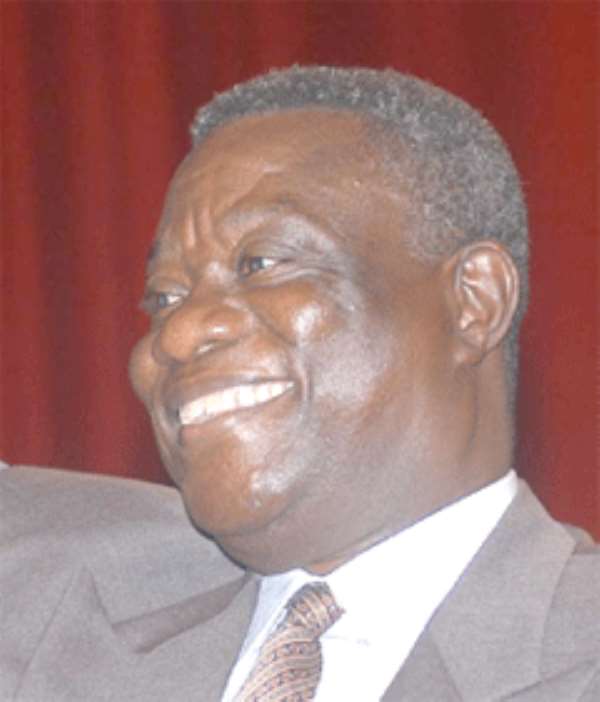 The flag bearer of the National Democratic Congress (NDC), Prof. John Evans Atta Mills, has stated that he will never hesitate, if he wins the 2008 elections to become the President, to consult President J. A. Kufuor on important national issues.
According to him, President Kufuor, who would be a former President after 2008, would by then have had experience and knowledge about national issues which would help his government and the nation as a whole.
Prof. Mills, who was interacting with journalists at an end-of-year soiree for media practitioners at the weekend, said by virtue of being the President of the country for eight years, President Kufuor would have firsthand information on nationals issues which his government might need.
He stated that that was what he meant when he said some time ago that he would consult former President Rawlings if he won the 2000 elections during a function at Swedru. However, people misconstrued and misinterpreted it.
He noted that since no single person was the repository of knowledge and information, it was always important for one to do a lot of consultation.
Asked who would be his running mate in the 2008 election, Prof. Mills, who had Mr Martin Amidu and Alhaji Mohammed Mumuni as his running mates in 2000 and 2004 respectively, said he would leave such decision for the various groups, including representatives of the membership, to take because currently the party had about a dozen people each of whom qualified to be his running mate.
Prof. Mills gave the assurance that his campaign would strictly be on issues which bordered on the welfare of the people "because Ghanaians are suffering and want a person who will ensure that there is work to do, food on their table and their kids have affordable and quality education".
The President of the Ghana Journalists Association (GJA), Mr Ransford Tetteh, congratulated Prof Mills on his election as the flag bearer of the NDC and assured him that the media would offer all candidates equal opportunity to get their message to the electorate.
The Chairman of the NDC, Dr Kwabena Adjei, said the party and the media were not at cross purposes but were doing their work for the betterment of the nation. Therefore, they should see each other as partners.
In attendance was Mr Eddie Annan, who sang tunes of old to the admiration of the people present. There were also representatives of Dr Ekwow Spio-Garbrah and Alhaji Mahama Iddrisu.
Story by Donald Ato Dapatem