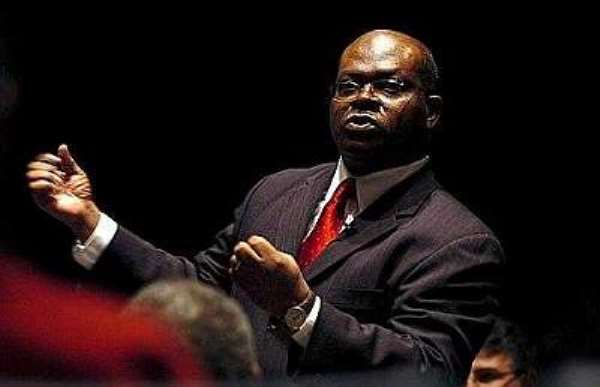 The Elgin Community College Board of Trustees announced Tuesday that David Sam, a native of Ghana, West Africa, will be the college's eighth president.
"I'm excited. It's a wonderful opportunity to come to a great institution," said Sam, president of North Harris College near Houston. "I've known of ECC for a long time. It has an excellent reputation, and I just can't wait to be a part of it.
"I felt it was good match. I felt a connection to the faculty, students, and board," he continued. "I just want to work together to help the students achieve their educational dreams."
Sam has more than 20 years' experience in community colleges. He has served as North Harris' president since August 2000. Before coming to North Harris, he was the dean of the community and technical college, as well as a professor of social sciences and business management at the University of Akron in Ohio. Before that, he served as vice president for faculty and instruction at Harrisburg Area Community College in Pennsylvania.
The college introduced four finalists throughout December as candidates to replace Michael Shirley, who retired at the end of the year. But it's Sam's past work that set him apart from the other three finalists and got him the position, Phyllis Folarin, vice chairwoman of the ECC board, stated in a press release.
"All of the finalists for the position were immensely qualified, but we felt professor Sam has the capacity to develop a new leadership paradigm for the college that speaks to his background in global affairs and community college leadership, as well as his excellence in increasing enrollment while balancing academic and financial resources in serving a growing population," Folarin said.
Sam agrees that his background nailed him the job.
"I'm happy that I was chosen," said Sam. "I think the combination of my experiences all worked together to help guide the selection process my way."
Touts accomplishments
During his tenure at North Harris, Sam said, he has initiated an early college program, started a summer "bridge" program for first-generation students, increased retention and graduation rates, created several state-of-the-art computer labs, and developed a certified emergency response team with more than 40 members.
Despite the progress he's made at North Harris, Sam says he's glad to be coming back home to Illinois and joining the staff of ECC.
"I get to come home to the area. The family's excited, and it's wonderful," said Sam, who started off his American education at Illinois State University in Bloomington and received his master's in business administration from Northwestern University's Kellogg School of Management in Evanston. "They've been with me all along. I also have relatives in Algonquin and Schaumburg who are excited about my return to Illinois."
And even though packing up the house in Texas will be a pain, Sam says he's ready.
"Moving's always a challenge," Sam continues. "But we'll work through it gradually. If we could blink and the move would be all done -- that'd be great, but that's impossible. But I'm getting back to my home and starting a job at a great college, so I can deal with it."
Looking ahead
But Sam's not focusing on the move. He's looking at bringing ECC to the "next level" through starting more student outreach initiatives, creating more high school dual-enrollment programs, and increasing the number of work force programs tied to the Elgin community.
Bringing ECC to that next level will be a collaborative effort, he said.
"For the first several months, I plan on looking, listening and learning. I want to get to know the college and the community, and work with them and explore with them to make things happen," said Sam. "We have to all work together to help move ECC move to the next level. We have to raise the academic bar and give them (students) the support -- tutoring and other support networks -- to get over that bar. And when they leave this institution, my hope is that they're as good as any student from anywhere else."
ECC trustees plan to officially confirm Sam's three-year contract at their previously scheduled meeting at 7 p.m. Tuesday, Jan. 16, at the University Business Center at 1700 Spartan Drive, Elgin.
Sam will begin his tenure at Elgin Community College on Feb. 12. Carole Robertson, vice president of finance and administration, will continue as acting president during the interim.