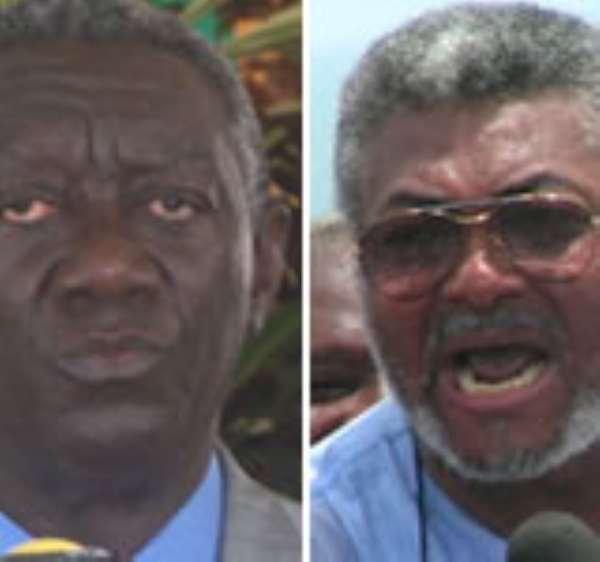 The Moderator of the General Assembly of the Presbyterian Church of Ghana (PCG), the Right Reverend Dr Yaw Frimpong-Manso, has stressed the need for cordial relations between the President and the former Head of State.

He recalled an initiative by the Christian Council of Ghana some time ago to resolve the impasse between the two, but said the attempt was not welcomed.

"Despite the insults we received from a cross section of the citizenry, in our desperate attempt to join the two together, it is imperative for the Church to put pressure to ensure that their relationship become healthy," he said.

Chairman of the Church at Akropong on Sunday, the Moderator stated that reconciliation between them would augur well for the development of the country.

He noted that, as Ghana was about to celebrate the 50th Anniversary of the country's independence, the nation needed unity and reconciliation more than ever before and "the best people to show the way to unity and reconciliation is the former and sitting President".

Preaching on the theme "Christ the universal King," he urged leaders to be mindful of the fact that no authority except that of God was everlasting and called on them to put their trust in Christ, "who reigns forever".

He mentioned the rise and fall of kingdoms and the execution of former Iraqi leader, Saddam Hussein as events that gave credence to the fact that no ruler or kingdom was absolute.

The execution of Saddam Hussein must make leaders conscious of their actions to humanity when they were in power.
Rt. Rev. Frimpong-Manso described the execution as a sad one and noted that "earthly justice required that those who committed crime against humanity should be dealt with on earthly terms".

He called on Ghanaians to desist from the "pull him down syndrome" that had become a canker in the society, which impeded development and progress.

The Moderator called for a better approach in the New Year as the nation prepared for the 50th independence anniversary to make way for progress.

The Moderator advised the Presbytery Chairman to discharge his duties as a servant of Christ, the universal King and to desist from all forms of iniquity that could bring reproach.

He reminded him that corruption, indiscipline, nepotism, political acrimony and inconsistency of faith among others, were some of the challenges and urged him to put his trust in Christ.

The Presbytery Chairman, Rev. Dr Joseph Obiri Mante, who is a Senior Lecturer at the Trinity Theological Seminary, would hold office for five years.

He noted that the accomplishments of the Presbytery required better performance during his term to move it forward and called for the prayers and support.

The Presbytery Chairman, said development of the presbytery could not be achieved without the transformation of the lives of the less privileged.

He thanked the General Assembly and the Presbytery Council for the confidence reposed in him by nominating and electing him into that office.
Source GNA