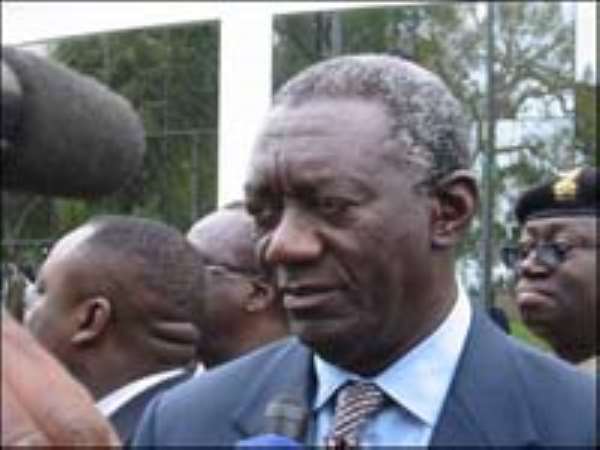 President John Agyekum Kufuor on New Year's Eve launched Ghana's Golden Jubilee Celebrations in a nationwide radio and television broadcast. He said; "given the solemnity of the celebration, the highlight of which falls on the 6th of March, let us as a nation usher in that very special day by holding vigil on its eve".
President Kufuor said "the Jubilee Celebration is a unique opportunity not only to demonstrate our unity as a nation, but also to highlight the many opportunities for commerce, business and tourism.
It is the occasion to bring to the fore our famed arts and culture and our traditional warm hospitality". He appealed to the entire nation to display a high sense of responsible citizenship, dignity and commitment to the success of the Jubilee Celebration adding; "sprucing up the home and the environment should be part of the commitment.
The sense of pride in our environment ought to be on display not only for the occasion but for all times".
President Kufuor, therefore, urged all including the District Assemblies; Traditional Authorities; Religious Groups; Market Leaders; Trades Unions and the entire civil society to join together to celebrate the Golden Jubilee of the nation in a befitting manner.
President Kufuor reserved a special word to the young people of Ghana, saying: "The future belongs to you. Fifty years ago I was a teenager looking to the future with great hope and expectation. Unfortunately, the experience had not been half as good as most young people of my generation dreamt it will be. "I want to speak on behalf of the elders and adults of this nation and say that, with our resolution of today, we are prepared to set things aright and sustain them, so that the path will be easier and smoother for you. "But one thing is sure; you must use every opportunity to prepare yourselves diligently so that you will not fail this nation and yourselves when your turn comes. Seize the moment and become worthy citizens of our country", he said.