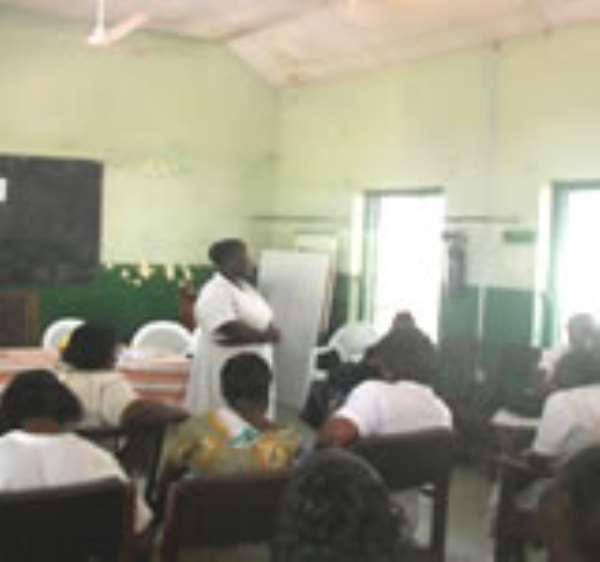 The Health Workers Group in the Greater Accra Region has dismissed threats by Government to withhold salaries of their members if they fail to revert to normal duty hours. The group says the move by government is unfair.
The Health Workers Group consisting of nurses, medics and other health care personnel two weeks ago ceased from working their usual shift system that saw their members at post on a 24-hour schedule including weekends to protest government's delay to implement a new salary structure to address imbalances in the existing pay structure. They gave government up to the end of December to implement the new structure or they would review the situation.
But Government says it will not pay the salaries of health workers who have reduced their working hours.
Speaking to Joy News, Government Spokesperson for Social Services, Kofi Amponsah-Bediako said the action by the health workers to reduce their duty hours is unfair and goes against the Labour Law.
According to him, Government will only implement the recommendations of the Appellate body and nothing else.
Mr. Amponsah-Bediako cautioned that Government as the employer will also strictly go according to provisions of the Labour Law which gives it the right to withhold the salary of health workers who illegally reduce their working hours.
"When it comes to health, people don't fall sick between 8 and 5, they can fall sick at anytime and that is what you agree to do as a nurse, as a pharmacist, as a doctor and so on and so forth so if you want to go contrary to that then the rigid application of the rule would have to be enforced. If you worked to rule you are not fulfilling your side of the obligation and what it means is that your salary should be withheld until you can offer a good explanation as to why instead of working through the number of hours that you are required to do you decide to work to rule."
He said all the health workers were aware of the existence of an appellate body which was working on their salaries and wondered why they would resort to arm twisting to achieve their objective.
"I was there when this committee was set up, we were all there. They are working. We agree that there are so many distortions but who created the distortions? Their own human resource outfit. The appellate body has issued an interim report and corrections are being made. I have seen copies of the new mapping system which is going to be fair to all and yet if you will not agree and want to rush and twist our arms just because when you go on strike government will be compelled to listen because you are dealing directly with human life, I think this is unfair. Let's take our time and do what is right once and for all."
But the Chairperson of the Greater Accra Health Workers Group, Raymond Tetteh says comments threatening the health workers will only antagonize them.
He indicated that the group still had up to the end of December to meet over government's delay in implementing the recommendations of the appellate body.
He told Joy News reporter Dzifa Bampoe that the threat from Government was untenable since the health workers were still at post and were working.
"I think it is far fetched. Because I think we are at post and we are working in the first place so that is not exactly the case and throughout the weekend we were here. Actually we are working up to 8 but even after 8 o'clock we still maintain a skeletal staff and we respond to all forms of emergencies so that is not exactly true.
"But the issue is not exactly whether we're working or not. The point is we are still in December and in any case we've been paid our December salary so if we are talking about January we haven't even started the month of January and it is rather provoking our rank and file."
Raymond Tetteh said the health workers group had seen copies of the appellate body's interim report which tells that about 95.5 percent of the health workers group was worse off by the existing salary structure.
"In a setting like ours, where we take care of human life if 95.5 percent of the workforce is disturbed for the whole year, I mean it is not the best, honestly it is not the best. All we are saying is that it has taken a whole year, is Government going to pay us back pay with retrospective effect from January when this issue is sorted out? We've come to the end of the year and we have been told by the appellate body that they are asking for three months more to redress the issue. All our membership is saying is this... this thing should be fast tracked."
He said with workers' morale so dampened throughout the year when they had been treated with disrespect and disdain, the health sector was crumbling and the Government would do well to respond to the needs of the workers urgently rather than resort to issuing threats of withholding salaries when workers were still at post.