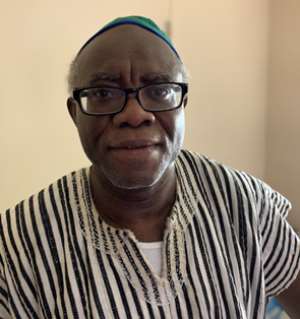 It was the headline that attracted my attention and piqued my interest as well. The story was captioned "Missouri Executes Transgender Woman for Murdering Her Ex-Girlfriend in 2003" (River City Journalism Fund 1/3/23). The convicted killer's name was Scott McLaughlin at the time that he allegedly brutally raped and murdered his then-estranged girlfriend by the name of Beverly Guenther. The victim was 45 years old and recently divorced from her allegedly abusive husband. She had been a homemaker or a housewife for most of the duration of her marriage. When Beverly Guenther met Scott McLaughlin, the much younger man was about 25 years old. Now, it was the temporal or age difference that subsequently gripped my attention and interest, as I began to delve deeper into the details of the story, being that when I was also about 25 years old and an undergraduate in college, I dated a 45-year-old woman by the name of Daphne Hall, of Jamaican descent.
Daphne was in the process of getting married to a fellow Jamaican man, a police officer resident on the globally renowned Caribbean Island, and the cradle of reggae music and the setting of the James Bond movies, with the intention of shortly getting him to join her right here in New York City. Alas, while my quite smashingly pretty soon-to-be-girlfriend was in the process of filing her fiancé's immigration papers, news reached her that her beau had been fatally stabbed at a Kingston night club, in the Jamaican capital, where, as a police officer, he had been radioed, together with a couple of colleagues, to help break up a fight among some rowdy attendees. The part of how Daphne's fiancé got fatally stabbed was never clear to me both then and now because, according her, the victim was a police commissioner at the time, that is, much higher up the ranks. This part of the story never made much sense to me because I thought that it was far more likely for a police commissioner or commander to have been accompanied by an adequate number of subalterns, so he wouldn't have to be directly involved in such a precarious situation.
Anyway, when I met Daphne, she told me that she had not dated or been in any serious relationship with any man for close to a decade. For a woman of her age, Daphne was in a pretty good shape. Of course, at 45, she was a woman in her prime. Pretty to the nines, as it were. West African sepia. Her very tragic story also endeared me to her by no mean measure. She was generally calm and quiet and angelically innocent looking. I had this feeling about me of the imperative need to make up for her great touching loss by committing to love her with all my heart and soul, and then more, as it were. Which was precisely what flashed through my mind, when I read about the very bad marital experiences allegedly endured by the late Beverly Guenther shortly before she met and hooked up with the man who would eventually take her life. We are informed that shortly after Scott McLaughlin had been convicted for brutally murdering Beverly Guenther and sentenced to capital punishment, he transgendered into a woman. That felt and sounded rather tacky to me.
In the afore-referenced story, it is not clear to me precisely why the convicted murderer, that is, Scott McLaughlin, had decided to surgically or medically transition from manhood to womanhood. My gut speculation is that maybe Scott wanted to experience something about how it felt or what it meant to be a woman or both and, possibly, psychologically a victim of the kind of unspeakable brutality that he had meted his then estranged girlfriend. Or maybe not, even though we are also informed by the reporter of the afore-referenced news story that Mr. McLaughlin, now transgendered into a woman, was in the routine habit of secretly dressing in women's clothing as a young boy. Perhaps a prepubescent boy. We are also informed that the now transgendered and self-renamed Ms. Amber McLaughlin made sure that none of her parents would witness her crossdressing quirks. "His" at the time, of course.
Whatever the real or true narrative of Amber McLaughlin's life growing up might have been, the part that convulsively repulsed me the most was the predictable and stereotypical dodge or subterfuge that she had been partly raised by foster parents, in particular an abusive foster who was a police officer and, implicitly, incurably addicted to the sort of police brutality that has become headline news all across the United States in recent years and weeks, to be certain. You see, there is a comparative irony here with the prevalent belief in the Ghana of the late 1960s and the 1970s and well into the 1980s while I was growing up. Which is the fact that here in the United States of America, the fact that one had supposedly been brought up or raised by abusive parents is almost invariably used as a ready and facile pretext for one's antisocial and, in this particular instance, anti-human behavior.
On the other hand, in the Ghanaian society in which I grew up which, by the way, as it is naturally to be expected, has undergone quite significant changes over the course of the past two generations, abused children were often expected to grow up and healthily or progressively transcend their inhumane experiences at the hands of both their parents and/or foster parents while growing up and actually become decent and protective adult parents of their own children and the children of their relatives and neighbors. We are further informed that originally, the very jury that had unanimously decided that Scott McLaughlin – aka Amber McLaughlin – was, indeed, guilty of murdering Beverly Guenther could, however, not agree on whether the most well-deserving punishment to impose on the convict was either the death penalty or life imprisonment. The final verdict of the death penalty would fall to the trial judge, Mr. Steven Goldman, we are informed.
We also learn that only two States of the Union, namely, Missouri and Indiana, allow a trial judge to impose the death penalty if a jury gets deadlocked. In his statement backing up the verdict of Judge Goldman, Missouri's Governor Michael "Mike" Parsons poignantly noted the unignorable and unassailable fact that "Ms. Guenther's family and loved ones deserve the peace" and closure of knowing that justice had been done as the State's law warrants. But it was Judge Goldman who came to the typically perfect understanding of the imperative need for the imposition of the death penalty on Scott/Amber McLaughlin, when Mr. Goldman reportedly declared that the "depravity of mind" of the killer warranted meting him/her the death penalty. The difference here, though, is that under Ghana's Fourth Republican Democratic Dispensation, the death penalty is prohibited and deemed to be immitigably uncivilized, except under circumstances of inevitable self-defense, such as national security agents in the line of duty.
*Visit my blog at: KwameOkoampaAhoofeJr
By Kwame Okoampa-Ahoofe, Jr., PhD
English Department, SUNY-Nassau
Garden City, New York
February 1, 2023
E-mail: [email protected]