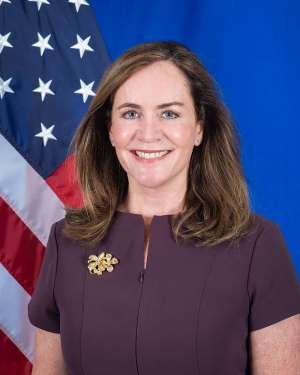 The United State Department will begin Partnership Opportunity Delegation (POD) to Ghana today.
The POD is an initiative of the U.S. Department of State's Office of Global Partnership designed to spur and facilitate activities between the public and private sectors and selected countries with unique opportunities for partnership, investment, and ecosystem development.
This POD comes on the back of the December 12, 2022, announcement by the Secretary of State, Anthony J. Blinken. The delegation is expected to be in Accra on February 6–10, 2023, to cultivate and enable collaboration and partnership opportunities between the U.S. private sector and West Africa's burgeoning climate innovation and entrepreneurship ecosystem.
Anthony J. Blinken made the announcement during the Innovators Gathering pre-summit event for the U.S.-Africa Leaders' Summit. The announcement underscored the steps the United States and African nations are taking to strengthen partnerships that advance shared priorities.
Organising body
The PODs are organised by the U.S. Department of State's Office of Global Partnerships (GP) to facilitate partnership activities between the public and private sectors of the United States' selected countries. POD Ghana 2023 will be the first in-person POD since the beginning of the pandemic, and delegates will include representatives from ventures and startups, educational institutions, startup ecosystem developers, climate and sustainable technology investors, Ghana diaspora, NGOs, and international organisations. The likes of Climate Kic, New York City's Impact Hub, Arm, LinkedIn, and a host of others have already committed to joining the POD.
Connecting Climate Entrepreneurs (CCE)
As part of the Connecting Climate Entrepreneurs (CCE) initiative, POD Ghana 2023 aims to cultivate new engagement between the vibrant technology and innovation corridors of the United States and Ghana through a public-private partnership and support the U.S.-Africa Leaders Summit's goals of fostering new economic development and responding to the climate crisis.
Delegates
Delegates will take part in facilitated introductions to Ghana's public and private sector leaders, engage directly with climate innovators, and witness firsthand the potential promise and challenges of collaboration with Ghana's sustainable entrepreneurship ecosystem. The POD Ghana 2023 demonstrates how the public and private sectors can contribute jointly to endeavours that strengthen, deepen, and reaffirm the United States' commitment to increasing creative collaboration with African nations in the advancement of our shared global priorities, challenges, and opportunities.
Exploring potential partnership opportunities
The Special Representative for Global Partnerships, US Department of State, Dorothy S. McAulife, has stated that they intend to explore potential partnership opportunities with the Ghanaian private sector and share insights into creating an environment for innovation and entrepreneurship in Ghana's emerging climate tech ecosystem, saying they truly believe the United States' private sector has a critical role to play in our diplomatic efforts to spur economic growth and combat climate and tech space. This, according to her, is a unique opportunity to understand the dynamic potential of the country, the region, and the continent as a whole.
"Ghana is considered a global trade hub due to its location and wealth of resources. Unfortunately, Africa is projected to be the most impacted continent due to climate change. In 2021, with a population of 30.42 million, Ghana was one of Africa's top three fastest-growing economies and ranks among the continent's top countries for CV investment. As the recently appointed Champion of Climate Change for the Economic Community of West African States (ECOWAS). Ghanaian President Akufo-Addo envisions Ghana as the regional hub for climate innovation," she recalled.
Dorothy S. McAulife further indicated that they will learn about the opportunities and challenges that exist from organisations and entrepreneurs directly involved in the Ghanaian climate and tech economies, saying they will meet Ghanaian government officials to learn more about their goals and share perspectives on promoting and developing a climate-friendly business environment.
"You will participate in a series of roundtable and networking events to exchange insights with the local private sector and government officials to identify potential projects, partnerships, and collaboration opportunities," she explained.
The Delegates include Councilmember, Los Angeles City Council, Curren D. Price Jr, Manager of Social Ventures, Tides Foundation, Tanya Sattar, CEO and Co-Founder, Impact Hub Accra, Enterprise Account Director, LinkedIn, Martijn Vermolen, Managing Director, Telesto Strategy, Andrew Alesbury, Head of Research Partnership in Africa, Google, Kwaku Agbesi, President and CEO, Hyperfocal Communications, Yolanda Caraway, Director of Software Technologies, Arm, Roderick Crawford among others.