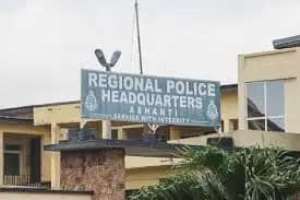 A businessman and self-acclaimed building contractor in Ashanti Region has petitioned the Regional Police Command against what he described as the unprofessional conduct of two police officers in the region.
Petitioner, Mr. Yaw Gyamfi claims, a couple of months ago, while working on a parcel of land he bought at Senfi in the Bekwai municipality in the region, two uniformed policemen arrested and processed him for court for which he is yet to know his offense.
"I was working on my land when one T/Dr. Mensah aka Dr. Mensah and some police officers in uniform approached me on the land and stopped me from working. I asked them what order do they have to stop me, and they claimed they are from the headquarters of the Ghana Police Service and so, I should comply with their instructions.
"They illegally stop me without any court order but also took away the bulldozer and other machines used to clear that land," the livid contractor narrated in his petition addressed to the Ashanti Regional Police Commander
According to Mr. Yaw Gyamfi, immediately after his arrest, he was sent to the Kumasi Central Police Station outside the jurisdiction of the disputed land where criminal charges were preferred against him thereon.
While calling for an immediate investigation into the so-called misconduct of the said police officers, the businessman cum contractor accused the Chief Executive of Dr. Mensah Herbal Clinic, Dr. Mensah, and the chief of Adumasa, Nana Amankwa Kodom II, of masterminding his arrest.
Embattled Yaw Gyamfi continued to castigate and accuse the Ashanti Regional Unit Commander of the Police Intelligence and one Inspector Amponsah of harboring hatred against him as the two senior officers have exhibited bias in maintaining peace and order.
"The Police Intelligent Commander and one Inspector Amponsah prepared a docket and file it at Bekwai Circuit Court instead of allowing the prosecutor to file the case. They turned themselves as prosecutors based on their relationship with the said Dr. Mensah and Nana Kodom, the chief of Adumasi.
"To my understanding, the court deals with procedures yet because of their interest in the case, they do not have the docket pass-through the court's procedure," he alleged.