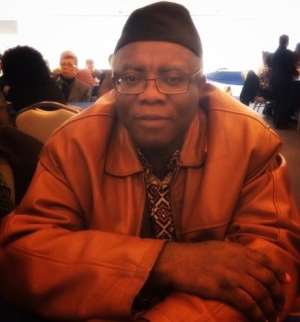 Short of raw tribalism or crude ethnic micro-nationalism, in this case or particular instance, perhaps, a sort of SADA-type thoroughgoing corrupt political cronyism, it is sheer wonder how Mr. Inusah Fuseini, the former National Democratic Congress' Member of Parliament for Tamale-Central, could have arrived at the inexcusably asinine conclusion that a Candidate John "European Airbus Payola" Dramani Mahama is the one and only National Democratic Congress-sponsored former President of Ghana with an enviable record of achievements, going into the 2024 Presidential Election, who really stands any fighting chance of getting the late Chairman Jeremiah "Jerry" John Rawlings-founded political establishment back to Jubilee House (See "Why NDC Should Allow Mahama [to] Unopposed, Inusah Fuseini Explains" Modernghana.com 2/2/23).
The very first problem that we have with the man proposing the unopposed presidential candidacy of his fellow northern-descended "clansman," who once shamelessly told a BBC news reporter that he was naturally prone to official bribery and corruption, is the fact that the man who is proposing such a losing strategy or gameplan is himself a jaded political loser who woefully lacks the requisite credibility. You see, we all know that Mr. Fuseini quietly and, some would even say, "decently" slipped out of Parliament and vacated his Tamale-Central Parliamentary Seat under circumstances that could not be aptly described as either "glorious" or "honorable." For those of our readers who may have so soon forgotten this, Mr. Fuseini was one of the two dozen, or so, Mahama cabinet appointees who were literally caught with their pants down by then Auditor-General Daniel Yaw Domelevo, in what became infamously known as the "Double-Salary Racket," in which it ignobly, albeit not altogether unpredictably, came to light that for nearly all four-and-half years of his Presidency, Mr. Mahama had collusively and collaboratively supervised the thievish drawing of double salaries by a quite remarkable number of his cabinet members and other executive political appointees.
In short, going into the 2024 Presidential Election, the least attractive or vote-fetching candidate is the twice seismically trounced Presidential Candidate of the country's main opposition political party. One equally wonders what kind of clueless Presidential Candidate would think of campaigning on the politically catastrophic "Dumsor" track record of Comrade Mahama, under whose economically disastrous watch Ghanaians experienced an unprecedented level of unemployment and the effective collapse of more than half of all businesses, both publicly and privately owned, in the country. Plus, the fact that the few highway and flyover projects constructed under the watch of President Mahama, as Ghanaians have recently learned to their utter shock and horror, were cost-inflated to the extent of having the same amount or expenditure construct nearly three times the number of infrastructural projects constructed under the watch of President Addo Dankwa Akufo-Addo.
It also goes without saying that only the newly born in the country have absolutely no knowledge about the plain highway robbery that was Mr. Mahama's so-called Savannah Accelerated Development Authority (SADA), a catching-up program that was supposed to speed up the infrastructural and the socioeconomic development of the northern half of the country but actually ended up aggravating the very problem that SADA was ostensibly established to remedy. In sum, the only group of Ghanaian citizens who stand to gain from another widely perceived economic bonanza with the highly unlikely return of Mr. Mahama to Jubilee House are northern-descended entrepreneurial racketeers like the Agambillas and, of course, Mr. Ibrahim Mahama, the younger brother of Okogufuo Yagbonwura Kwame Gonja, who was instructively exposed by Mr. Kennedy Ohene Agyapong for regularly importing capital equipment for his mining business without paying the requisite amounts in taxation, oftentimes absolutely not even a pesewa!
Now, is this what Mr. Fuseini, who was serially appointed to nearly a half-dozen cabinet portfolios in just within the short span of four years by former President Mahama, reckons to be the formidable capacity and capability of his former boss for reviving the country's largely COVID-19-ravaged economy? This is the same leader who could not even arrest the spread of the highly localized outbreak of common cholera in 2014, an easily preventable basic environmental hygiene problem that killed at least a dozen students at the University of Cape Coast, the country's flagship and foremost academy for the training of educators and nation-builders. Irony of ironies! Anyway, I have already proposed the far more electorally fetching and politically progressive candidacy of Mr. Augustus Obuadum "Goosie" Tanoh in the recent past and do not intend to unnecessarily belabor my reasons, once again, for so proposing, except to tersely suggest the fact that going into the 2024 Presidential Election, the inescapable questions of competence and credibility are apt to occupy the minds of most eligible Ghanaian voters.
*Visit my blog at: KwameOkoampaAhoofeJr
By Kwame Okoampa-Ahoofe, Jr., PhD
English Department, SUNY-Nassau
Garden City, New York
February 2, 2023
E-mail: [email protected]