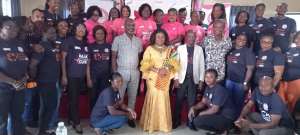 Breast Care International (BCI), a nonprofit organization in Ghana says the fight against preventable cancers should be tackled at the national level.
It says that can be done by the government imposing high taxes on alcoholic beverages, sugar-sweetening beverages, fast foods and cigarettes; which are among cancer risk factors.
According to BCI, when preventable cancers like breast, cervical and prostate agents are either halted or restricted, it will limit people from buying and consuming them.
The President of Breast Care International (BCI), Dr Mrs Beatrice Wiafe Addai, said this during the celebration of World Cancer Day (WCD) event on Saturday, February 4, 2023.
It was held at the premises of Peace and Love Hospital at Oduom in the Oforikrom municipal in the Ashanti region.
The theme for the event is on the three-year-trot catch slogan "Close the Care Gap."
World Cancer Day is an international day marked on 4 February annually to raise awareness of cancer and to encourage its prevention, detection, and treatment.
World Cancer Day is led by the Union for International Cancer Control (UICC), of which Breast Care International (BCI) is a member, to support the goals of the World Cancer Declaration, written in 2008.
"Alcohol, sugar-sweetening beverages, fast foods and cigarettes consumptions are some of the things that bring people these cancers. The government can reduce the number of people exposed to these harmful agents by imposing high taxes on them," he said.
"The high prices on these harmful cancer agents will deter people from buying and consuming these products, especially to protect the children from falling prey and to help their future," she added.
Dr Mrs Beatrice Wiafe Addai, who is also the CEO of Peace and Love Hospitals in Kumasi and Accra, Ghana, also observed that the continued spread of the disease around the world, particularly in poverty-endemic regions and communities.
"As a public health issue, cancers required the attention and commitment of all, pursuant to closing the gap," she stated.
On breast cancer, Dr Wiafe noted that though the BCI and PLHs since 2002 have on the forefront of creating awareness about the disease, a lot more needs to be done in Ghana, especially in the remote parts where the disease is rampant.
On a panel discussion during the event, she advocated for the re-training of health workers in these areas on breast cancer and other cancers for them also to spread the education and awareness to avoid late stage report of cases.
A Consultant Gynecologist, Dr Nii Oku Aryee, a panel member, expressed worry at the increased death rate of cervical cancer in Ghana.
The Medical Superintendent at the Mamponteng Government Hospital stated that 1,500 deaths are recorded in every 3,000 cervical cancers cases, a situation he attributed to lack of education.
He therefore appealed to women to avail themselves for regular screening, testing and vaccination to avoid any unforeseeable consequences.