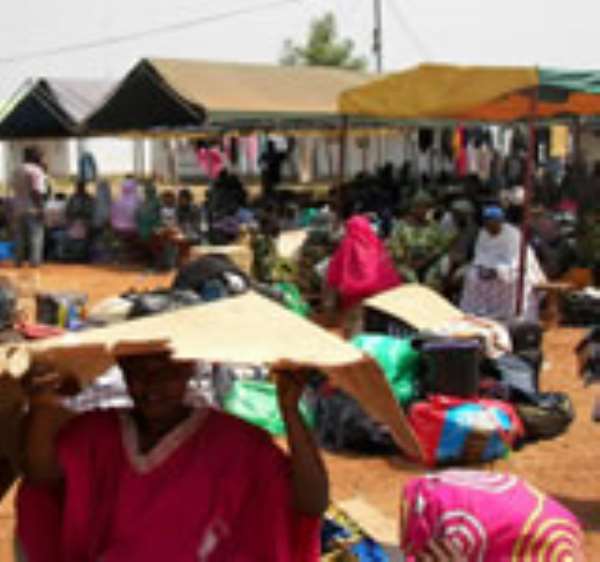 With over four hundred Hajj Pilgrims still stranded at the Kotoka International Airport, the National Hajj Council says the fate of the pilgrims depended on luck.
The Council said it had planned a smooth pilgrimage for the 2006 Hajj until a Swiss company that was to provide an airline to convey the pilgrims pulled out at the eleventh hour and threw its plans into disarray.
The Saudi authorities at midnight on Monday closed the Jeddah Airport to traffic to allow for preparations for this year's Hajj which begins on December 29.
The Hajj Council on Monday said they had begun negotiations with the Saudi authorities for an extension of the deadline. A Sudanese plane that airlifted 486 pilgrims to Mecca on Monday returned to airlift the remaining pilgrims but was unable to do so due to the refusal of the Saudi authorities to allow any new arrivals.
Speaking to Joy News, the Chairman of the Hajj Council Alhaji Kamagtey, said with the Hajj beginning on Friday, the Council was hoping that it would be as lucky as other West African countries that were in the past granted deadline extensions. He spoke to Joy FM's Evans Mensah.
"The Saudi government normally closes the airport before the final day, Arafat and the final day is celebrated on Friday. I understand that America, England and other countries are having the same problem so they are putting pressure on the Saudi government, they are trying to convince the government of Saudi Arabia to extend the date to at least tomorrow (Wednesday). We are hopeful that they will extend the date Insha Allah!"
Evans Mensah(EM): "So if you don't get an extension of the date, then what?"
Alhaji Kamagtey (AK): "If we don't get the extension then going there is useless, because the meaning of going there is to meet the Arafat and we are hoping that they get there. It is an international problem not only Ghana problem."
EM: "Why do you keep on citing international excuses?"
AK: "I want you to know that these things they normaly happen."
EM: "Are you saying that your inability to send the pilgrims to Mecca is an international problem?"
AK: "Well to us no but internationalll it is normal."
EM: "But we are talking about a specific case of Ghanaian pilgrims."
AK: "Well, it's not normal, it's not normal."
EM: "Have there ever been a case where they've had to extend that deadline?"
AK: "Oh Yes! Even last year it was extended to Nigerians, and a year or two years back they extended to Togolese, oh they do extend, yes they do, if you are lucky, yes."
EM: "If you're lucky?"
AK: "Yes because it depends on luck."
EM: "It depends on luck?"
AK: "Yes."
EM: "So the fate of the over 400 pilgrims who are currently in Ghana stranded depends on luck?"
AK: "Yes but we're hopeful, as I said we're hopeful. You know we have done our best, the only thing we can do is to do our best to get the day extended."
EM: "But the stranded pilgrims say you've failed them."
AK: "Well you know human beings when they want something they don't remember the effort that you have put in. In fact we have done all that we can, all that we can. We were disappointed by the company."
Alhaji Kamagtey said the Council had not given up yet but would persist with its attempt to get the date extended. It hoped to get back to the pilgrims by 2pm on Tuesday to tell them of their fate.