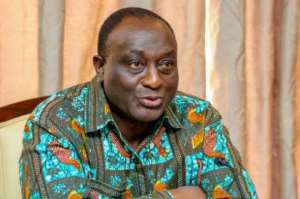 Mr. Alan Kyerematen
Flagbearer aspirant of the New Patriotic Party (NPP), Alan Kyerematen has praised the President of the Republic, H.E Nana Addo Dankwa Akufo-Addo for his leadership style since taking office.
Addressing the Sefwi Wiaso Traditional Council during a visit, the former Minister of Trade and Industry admitted that the NPP is struggling to come up with a campaign message for the 2024 general elections because of the current hardship in the country.
"President Akufo-Addo has done well, when the NPP came, there was no Free SHS, but we have brought it. We have also implemented the Planting For Food And Jobs, One District, One Factory, and a number of the policies, but we all know that times are hard.
"We are all in difficulty, we have worked hard but due to the economic hardship, our key message for campaigning as a party for the 2024 election has become difficult for us," Alan Kyerematen stressed.
According to him, one of the main causes of the crisis facing the country is the fact that successive governments have refused to continue the policies of their predecessors.
Alan Kyerematen is hoping that Ghanaians will give the NPP the mandate to continue the good works of President Nana Addo Dankwa Akufo-Addo.
"You see, one of our main challenges as a country is how successive governments abandon policies they inherit from another government. This is what has derailed our development efforts.
"So I would wish that for the first time in the history of the country, allow the NPP to continue, so our policies can gain roots while we do away with the bad policies. If we mean well for the country this is what must happen," the NPP flagbearer hopeful explained.