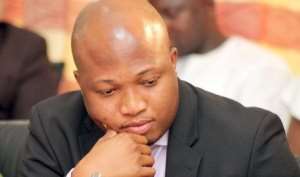 It's fascinating to watch the evolving event that characterizes the National Cathedral's double identity drama. Lawmaker Okudzeto Ablakwah has taken it upon himself to uncover corruption in the clergy's backyard. He attempted to create the impression that Rev. Kusi Boateng had engaged in corrupt acts as a result of his engagement with the national cathedral.
First, the lawmaker claimed aloft allotment of funds to Kusi Boateng on his social media page. He went on to pull him into the identity saga and threaten to expose him even further if he, Kusi Boateng, did not resign from the board of the national cathedral. The honourable member requested that CHRAJ investigate Kusi Boateng in light of his claims. Even after inviting CHRAJ, Hon. Ablakwah will not stop his social stalking of the pastor.
The event took a turn when Okudzeto was required to establish that his claims were not motivated by vindictiveness or character assassination, but rather by the good of the nation. Rev Kusi Boateng, who was in the midst of this identity crisis, sought legal assistance for what he described as a privacy breach of personal documentation leak by Ablakwah. Regrettably, the legislator who was adamant about establishing his point on his identity crisis expose was unwilling to yield to the law. He eventually eluded court service on him, as if he were fleeing the restraining order.
The straw that broke the camel's back came when the lawmaker openly desecrated the law in plain view of the public. This surprised many Ghanaians, who thought the politician should have known better than to disrespect a high court bailiff. The congressman was unaware that a trap had been laid for him, and due to his lack of judgment and sufficient discretion during the occasion, he was seen on camera tossing away and kicking court documents. His compromised attitude toward the judiciary has hampered his efforts to uncover corrupt individuals. If truth and justice advocates disrespect the law and denigrate the court in public, they cannot be said to be acting in the national interest.
I am convinced that the court is under attack by politicians who have long sought to drag the judiciary into contempt to further their parochial interests. I will ask the chief justice to change the way bailiffs serve court documents on defendants since their job has been threatened for a long time. Ghana is greater than every politician, because, without Ghana, no politician would have the chance to violate the law.
Isaac Ofori
Demographer, Human Rights Activist, Educator, Unionist