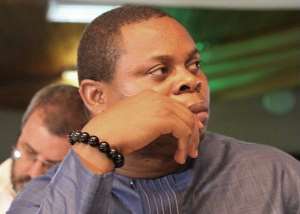 Franklin Cudjoe, founding President of IMANI Africa
Franklin Cudjoe, the Founding President of IMANI Africa is not clear about government's "Gold for Oil" policy.
The policy advisor indicated that, contrary to the original design of the policy, government in its first deal traded with cash and not gold.
"The first Gold for Oil deal ended up with the government paying cash instead of gold.
"Hope this unclear "policy" doesn't end up being international galamsey," read his tweet dated Saturday, February 4.
Mr. Cudjoe's assertion comes on the heels of several criticisms from CSOs and the Minority in Parliament, who have been calling for a wider consultation from the government.
Registering his displeasure in an interview on Accra-based Starr FM, Mr. John Abdulai Jinapor, the minority spokesperson on the Mines and Energy Committee of Parliament want the policy halted until Ghanaians have been properly updated.
"We are not asking that government should completely abandon this project or program. Our point is that let's consult further; let's build consensus; let's cross the Ts and dot the Is. So that we can all have a programme that is all-encompassing, which will deal with the challenges holistically," Mr. Jinapor stated.
He continued: "When we do that, we will make progress as a country, but when you conduct this policy and programme in such an opaque manner, without due diligence process and without any competitive process, you are going to see the kind of challenges that you are seeing."
Government, in November 2022, announced its decision to use a portion of the country's gold output, which it will purchase in cedis (GHS) from large and small-scale producers, in a "barter" arrangement to secure reliable and regular sources of affordable petroleum products for the country.
The move, according to the government, is to ease the demand pressure for dollars, which has led to massive depreciation of the cedi.