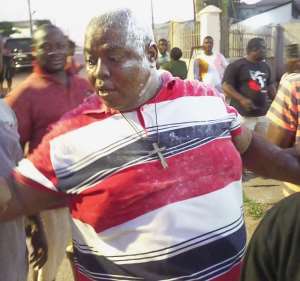 Mr. Joseph Ankrah staff of Accra Metropolitan Authority (AMA) has been elected as chairman of Awudome Parliament Association (APA) a non-governmental organization based at Awudome Estate in the Greater Accra Region.
Mr. Ankrah as the new chairman is mandated to steer the affairs of the group for the next two years.
Mr. Ankrah obtained 33 valid votes cast to defeat his only contender Mr. Joseph Buxton who is a manager at a Plastic Manufacturing Company and had 23 valid votes cast at an election supervised by Awudome Community Leaders.
Other elected officers were: Mr. Victor Quaye, Vice-President; Mr. David Collison, Treasurer; Mr. Emmanuel Okante, Secretary; and Mr. Stephen Ahovi, Organizer.
Mr. Ankrah in his acceptance speech called for the renewal of community-centered self-help spirit, "as a community we must also remember that whatever happens here has either a direct or an indirect impact on all.
"We must join forces to protect our community as in recent times the activities of criminals who use the Awudome Cemetery as operational abode is threatening the safety of residents".
Mr. Ankrah said APA would initiate interventions and collaborate with the Police to make Awudome Estate safe, "we must monitor the movement of criminals, identify their hideouts, and hint the Police".
Mr. Theophilus Bruce-Cathline Junior APA former Chairman tasked the new Executives to continue with efforts to register the Association at the Registrar General's Department.
The Awudome Parliament Association is a community-based group that seeks to accelerate and enhance development, serve as community and environmental protection, and revive communal self-help focus.
It also serves as Community Parliament to discuss national and community issues, ensure that the resident and members follow national trends, and participate in nation-building efforts as well as serve as Community Watch Group.
-CDA Consult II Contributor