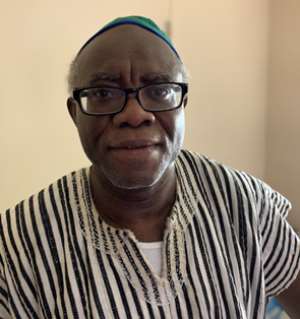 He is absolutely on point to observe that the most significant problem plaguing Ghana presently is the abject lack of fiscal accountability, and that unless or until the wasteful management or spending of the country's monetary resources is promptly and severely punished in toto, governance in the country will continue to run in the red, as it were. The foregoing observation was reportedly made by Mr. Daniel Yaw Domelevo, the last-minute Mahama-appointed Auditor-General who ran afoul of some key players inside the Akufo-Addo Government and had to be literally shown the exit door under circumstances that many keen and studious observers of Fourth Republican Ghanaian Political Culture firmly believe badly exposed the weak will or the abject lack of steely determination in the loudly and publicly declared battle against official corruption on the part of the present Akufo-Addo-led government of the New Patriotic Party (NPP) – (See "Domelevo Reacts to 'Commendable' Auditor-General Report on COVID-19 Funds" Ghanaweb.com 1/23/23).
We are also informed that the Kumasi-born and Ewe-descended and widely believed staunched member and/or supporter of the country's main opposition party, the National Democratic Congress (NDC), and native of the Volta Region made his rather poignant observation in a recent television interview. The name of the television station was, however, not given in the afore-referenced news report; not that it would have mattered much. Neither does the afore-referenced report cite any glaring instances in which any of the various ministries, departments and public or state agencies and enterprises have been mentioned in the Auditor-General's Report to have either criminally and/or deliberately caused what has come to be routinely classified as "Financial Loss to the State." So there is a diddly little that yours truly can meaningfully or constructively contribute to this otherwise most significant discourse on the subject of managerial or fiscal discipline and its positive effect and impact on the general development of our beloved Sovereign Democratic Republic of Ghana.
The wicked and, perhaps, even most painful irony of all this is the fact that those who are most vocal about rank official corruption in the country, such as Mr. John Dramani Mahama and Mr. Johnson Asiedu-Nketia, that is, the former President and the newly elected National Chairman of the National Democratic Congress, respectively, are without any iota or shadow of doubt among the most guilty major politicians in the country. In retrospect, the newly elected President Addo Dankwa Akufo-Addo's flat and adamant refusal to promptly and rigorously prosecute the Mahama-appointed cabinet officials and other executive operatives caught in the criminal mesh of the double-salary scamming of Ghanaian taxpayers was incontrovertibly what may be aptly and legitimately described as the "Primal" or the "Original Sin" of the Akufo-Addo Administration, vis-à-vis the President's much-touted steely determination to fighting rank official corruption in the country.
Now, it turns out, not the least bit surprisingly, that it was all sheer electioneering-campaign talk and absolutely nothing else. So far, the New Patriotic Party government and the leadership of the latter political establishment have woefully and dispiritingly demonstrated that it must and ought to be business as usual. It is all like a game of musical chairs. Whoever lands on one of those feather-padded comfy chairs is welcomed to help him-/herself with as much loot as they possibly can stuff into their clothes, wallets and bank accounts without getting caught. And if they happen to get caught, as was the case not very long ago, they are apt to smugly and self-righteously claim that there is absolutely nothing wrong with such kleptocratic shenanigans because after all, the last person to occupy that same feather-stuffed chair did the exact same thing, according to my Uncle Asaase Radio who, by the way, is not real uncle at all, but a thoroughgoing SOB who cannot in any way be legitimately envisaged as such. For ultimately, we are all, each and every one of us, too radically and completely different species of the Human Animal. And so shall it be and remain, world without end.
You see, Mr. Daniel Yaw Domelevo had himself not reportedly conducted business at the Auditor-General's Department as diplomatically as he possibly could have done, devoid of the kind of rancor and needless confrontation that brought this otherwise quite decent, patriotic and bona fide Ghanaian citizen head-to-head and toe-to-toe with the equally not-so-diplomatic Senior Minister to the President who had duly confirmed My Dear Brother Yaw Domelevo to the post to which he had only been initially named as "Acting," or some sort of make-believe pinch-hitter or substitute.
Now, whatever the real case scenario may be in the offing down the pike, I sincerely do not espy the sanguine possibility of any remarkable or significant and/or positive change. As I have already adumbrated, it is all a matter of musical chairs. And then just like the immortalized Bard-of-Avon's existential roulette, we gradually fade out of this sphere of breath, one-by-one, with time. Now, Dear Reader, tell me, aren't we all damn sorry-assed Niggers?!
*Visit my blog at: KwameOkoampaAhoofeJr
By Kwame Okoampa-Ahoofe, Jr., PhD
English Department, SUNY-Nassau
Garden City, New York
January 29, 2023
E-mail: [email protected]