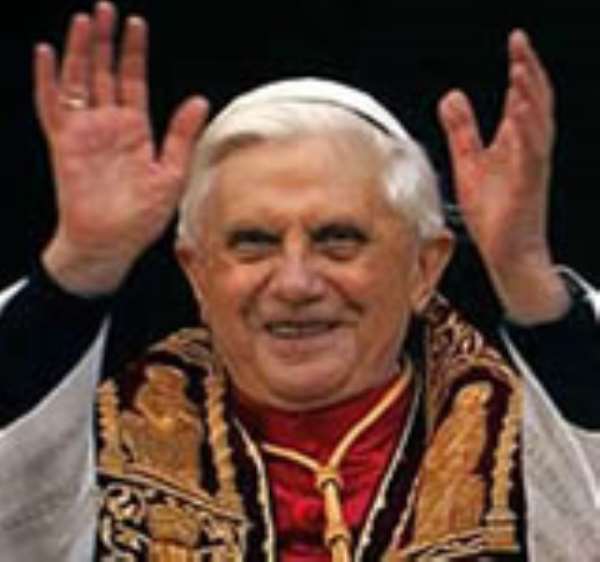 In his second Christmas mass as Pope, Benedict XVI has issued an appeal to protect the dignity of children. Speaking to a crowd of around 10,000 in St. Peter's Basilica in the Vatican, the Pontiff said that "Jesus, the child of Bethlehem, directs our gaze towards all children, born and yet to be born, who suffer and are abused in the world."
Earlier in the day, the Pope urged Christians not to forget Christ, the real reason for Christmas. He also asked that among the gifts given and received, people remember above all to give a part of themselves.
Thousands watched the mass on big screens outside St. Peter's, thought to be the biggest church in the Christian world. Television cameras brought the images to viewers in 47 countries.
At midday in the St Peter's Square, Pope Benedict will give a twice-yearly traditional message, 'Urbi et Orbi', translated as 'to the city and the world' and blessing to crowds.
From Bethlehem, EuroNews said Palestinian President Mahmoud Abbas joined Christians from the West Bank and pilgrims from around the world for Christmas Mass. Earlier bells rang in the town and colourful parades passed through Manger Square.
It was in Bethlehem, now in Palestinian territory, that the Bible tells us Jesus was born. Two millennia later, as the region feels the strain of armed conflict and economic sanctions, prayers are still being said to celebrate the event.
Christian Today also reports of Pope Benedict XVI's call on Sunday on the world not to shut Christ out of Christmas, during his Sunday blessing, 24 December 2006.
The Pope spoke out against the extensive commercialism of Christmas, which has seen Jesus sidelined despite being the origin of the holiday. The Pope also spoke out as he asked people to banish prejudices which were hindering peace throughout the world.
At St Peter's Square on Christmas Eve he said: "May his birth not find us busy celebrating Christmas forgetting that he (Jesus) is the very person at the centre of the feast."
Urging listeners to think about those who would greet Christmas in "solitude, in sickness and in suffering", he told that the true spirit of Christmas was a commitment to "overcome prejudices, break down barriers and eliminate situations that pit individuals and people against each other in order to build a world of justice and peace together".
Over December, Pope Benedict has been highly critical of the decision by some state schools in Italy not to set up traditional nativity scenes due to fears that they would offend non-Christians amongst the population.
On Sunday, the Pope lit a candle from his window symbolising a desire for peace throughout the world.
The Pope also held midnight mass in St Peter's Basilica with thousands of people. Large television screens were put up in the square for those who were unable to enter.
Sources: EuroNews and Christian Today