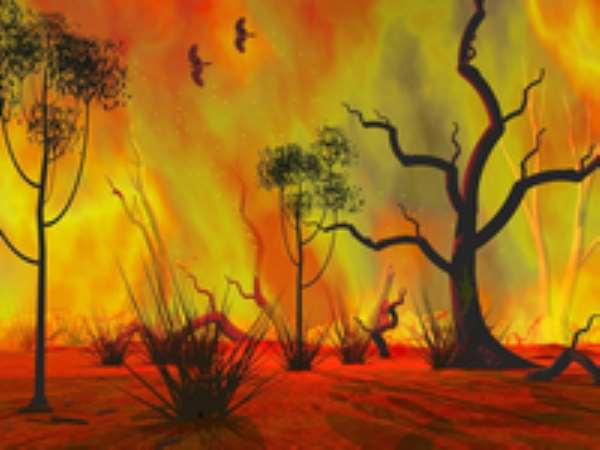 The Ga East District Assembly's remarkable improvement in the campaign against bush fire has resulted in the district experiencing only four bush fire cases this year, as against 10, for last year.
It is therefore not surprising that the district won the 2006/2007 Best District Award for bush fire prevention activities in the Greater Accra Region.
Kofi Allotey, the District Chief Executive, said this on Thursday at the launch of the Greater Accra Regional Bush Fire Prevention Campaign at Abokobi.
He said the people of Abokobi and its environs feel justifiably proud that a programme of this nature has been launched on their soil, because the community had been adversely affected by bush fire in the past, was caused mainly by group hunters.
Deputy Greater Accra Regional Fire Officer Samuel A. Yankey, in brief remarks, called for the revival of the fire volunteer concept in the communities to check the escalation of bush fires.
He mentioned refuse burning, group hunting, burning of farm slashes, cattle rearing smoking, and honey harvesting, as some of the root causes of bush fires, adding that 'Such negative activities must be checked to safeguard the little that is left of Ghana's vegetation.'
The Greater Accra Regional Minister, Sheik I.C. Quaye, in a speech read for him, said the theme 'Prevent bush fire for sustainable economic development,' is aimed at building and sustaining public awareness of the need to prevent bush fires and promote afforestation.
He said that as the harmattan is approaching, people must be cautious in handling fire.
The minister noted that the Greater Accra Region had experienced, severe bush fires that destroyed a lot of farms and that about 60 per cent of the vegetation had been lost.
He charged fire volunteer squads trained by the Ghana National Fire Service to work hard to prevent bush fire, from spreading.