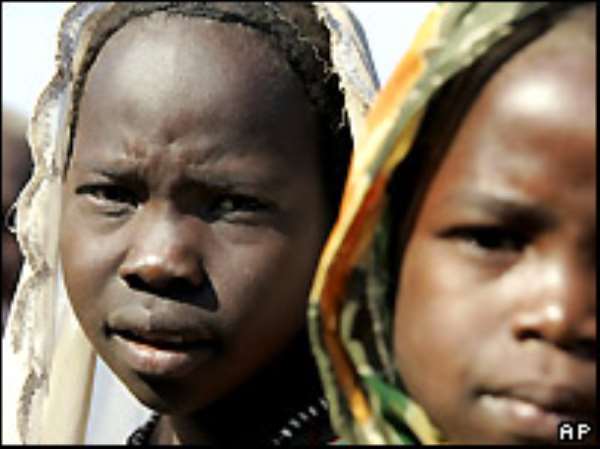 About 2.5 million people in Darfur have been made homeless
Sudan will agree in principle to the deployment of UN troops as part of an expanded peacekeeping force in Darfur, a top Sudanese envoy has confirmed.
Negotiator Sadig al-Magli told the BBC the deal showed his government's commitment to peace - although he said the size of the force was not settled.
Sudanese President Omar al-Bashir has until now opposed any involvement of the UN in the western region.
Nearly four years of fighting in Darfur has killed some 200,000 people.
More than two million people have been displaced.
The conflict began in early 2003, when a rebellion by local groups triggered a counter-offensive by the army and government-backed Arab militias.
The UN has been urging Sudan to implement a plan to strengthen the existing African Union with dozens of UN experts.
The force is then to be expanded into a hybrid force, with UN troops providing logistical and other support. The aim is for most troops to come from African countries.
Last week, the US warned Sudan it would face unspecified sanctions if it did not agree to the plan by January.
The UN envoy in Khartoum, Ahmedou Ould Abdallah, told the BBC he expected to get written confirmation of the Sudanese government's acceptance of the deal on Saturday.
Under pressure
On Friday, outgoing UN Secretary General Kofi Annan said he believed the president would also agree to a ceasefire and moves to restart talks with Darfur political groups.
Correspondents say Sudan appears to have bowed to considerable international pressure.
But there are still areas of contention - Sudan wants the AU to stay in command of the force, and Khartoum has not said how many UN troops will be allowed on the ground.
The UN had wanted to deploy an extra 20,000 peacekeepers to bolster the existing AU force of 7,000 soldiers.
The Sudanese ambassador in Washington told the BBC that the UN force, whatever its size, would have a supporting role - and that the AU peacekeepers would be in charge.
Violence has escalated sharply in Darfur in the last few weeks.
Late last week, the AU blamed the deteriorating security situation on the re-emergence of the pro-government Arab Janjaweed militias, and urged Khartoum to disarm the groups.
Aid agencies have withdrawn 250 workers this month, leaving many in Darfur vulnerable.