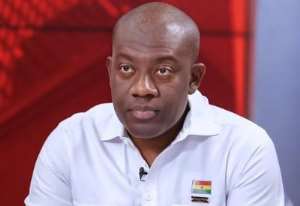 Mr. Kojo Oppong Nkrumah, Information Minister
The National Communications Director of the main opposition party, the National Democratic Congress, Sammy Gyamfi has taken a swipe at Information Minister Kojo Oppong Nkrumah.
Speaking on the Auditor General's finding, which indicts the information ministry for illegitimately paying themselves an amount of GH¢151,500.00 without approval, Sammy Gyamfi asserted that the Ofoase Ayirebi MP is not fit to hold a public office.
In the said audit report by the A-G, which covers the period between March 2020 and June 2022, it was revealed that some senior and junior staff of the ministry shared the aforementioned amount for working overtime during the pandemic period.
The A-G directed that the money be refunded by the ministry because it lacks constitutional backing.
"During our review, we noted that senior management staff and other supporting staff of the Ministry of Information paid themselves a total amount of GH¢151,500.00 as COVID-19 risk allowance for coming to work during the lockdown," the report disclosed.
At the NDC's maiden edition of the 'Moment of Truth' series in Accra on Wednesday, February 1, the opposition party's spokesperson wondered why there had been no reply from Mr. Oppong Nkrumah to the A-G report.
Sammy Gyamfi quizzes, "I don't know whether Oppong Nkrumah is still in the country..he doesn't deserve to be in the position if these findings are true."