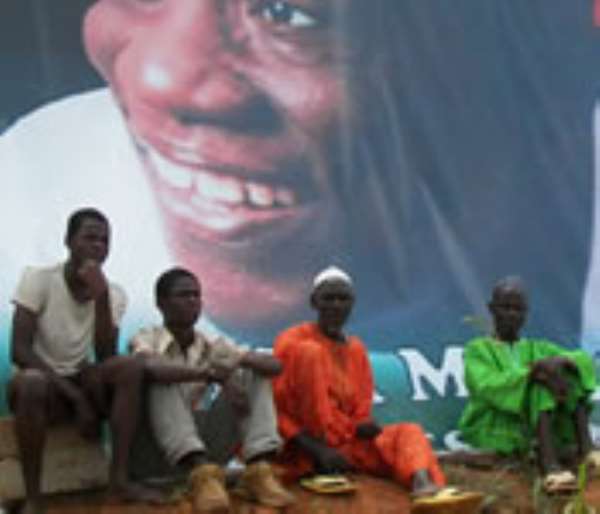 Dec 22 2006

The Office of Prof J.E.A Mills has in a press release expressed gratitude to all who helped to make the NDC Special Delegates Congress a special event and a success.
The statement, reproduced in full below and dated December 22, 2006, was signed by Koku Anyidoho, Deputy In-charge of Media Relations of Professor Mills' camp.
PRESS RELEASE
As Flagbearer and Leader of the Great NDC family, I take this opportunity to thank the delegates and the teeming supporters who made yesterday's congress a momentous one.
I am very grateful to the delegates for once again reposing their trust and confidence in me confident of the fact that I would lead them to victory in 2008.
For those delegates who left to their home regions yesterday, I am sure that the good Lord granted them his traveling mercies.
And for those who are journeying today, I pray that they also arrive home to their families and friends safely.
I thank the executives of the party for the innovative and professional manner in which the congress was conducted and I salute them for bringing glory and good name to the NDC.
To Alhaji Mahama Iddrisu, Dr. Ekow Spio Garbrah and Mr. Eddie Annan, I say a special thank you to them for being part of the process that has deepened internal democracy within the party and also for pledging their total and unalloyed support to the process that would lead the NDC to victory in 2008.
To our friends in the media, I thank them for the very professional manner in which they reported proceedings.
For those media houses that covered the event live and thus allowed a larger audience to be part of the congress, a special thanks to them for doing the NDC the honours.
I also thank all the invited guests from within and outside the country as well as our friends in the other political parties who added their presence to make the congress what it was.
In this festive time, I hope that as a country, we would all take time to reflect on the year which is passing us by and resolve to enter the coming year with a renewed sense of purpose.
I assure the rank and file of the party that once the calendar reads 2nd January, 2007, the work to the castle begins in earnest and there would be no turning back.
Victory beckons for the NDC and I pledge that John Evans Atta Mills would not deny the NDC that victory.
God bless the NDC, God bless our homeland Ghana and God bless us all.
Merry Christmas and a happy new year.