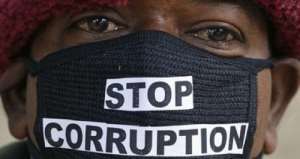 In Sub-Saharan Africa (SSA), the 2022 Corruption Perception Index (CPI) shows a dire situation as most countries including Ghana failed to make progress in reducing corruption.
The top performers in the region are Seychelles (70), followed by Cabo Verde (60), Botswana (60) and Rwanda (51), whereas Burundi (17), Equatorial Guinea (17), South Sudan (13) and Somalia (12) have the lowest scores, according to the 2022 CPI released today by Transparency International (TI).
In terms of trends, the 2022 CPI reveals that from 2012 to 2022, 25 countries significantly improved their scores.
The SSA region recorded the highest percentage of countries (28% – 7 out of 25); Angola, Cote d'Ivoire, Ethiopia, Kenya, Senegal, Seychelles and Tanzania experiencing significant improvements in their scores. Conversely, 31 countries significantly declined in their scores since 2012. SSA represents 10% (3 out of the 31 countries – Lesotho, Liberia and Mali) of countries with significant declines in their scores.
Ghana with a score of 43, ranked 8 th out of 49 countries in SSA which were included in the index, alongside Benin (43), Senegal (43) and South Africa (43).
Ghana for the 3rd consecutive year, scores 43 out of a possible clean score of 100 and ranks 72 out of 180 countries and territories included in the . This score, reflects a lack of progress in the country's fight against corruption.
Addressing the problem of corruption is critical now more than ever as corruption is a major contributor to the country's current economic woes as evinced by several reports including that of the Auditor General's report on Government of Ghana's COVID-19 expenditure.
This year's index focuses on corruption, conflict and security. According to Delia Ferreira Rubio, Chair of Transparency International : "Corruption has made our world a more dangerous place. As governments have collectively failed to make progress against it, they fuel the current rise in violence and conflict – and endanger people everywhere. The only way out is for states to do the hard work, rooting out corruption at all levels to ensure governments work for all people, not just an elite few."
—3news.com