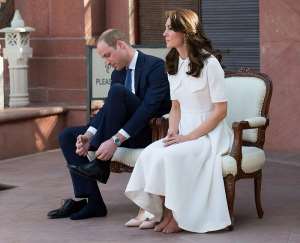 It's certainly not easy for Princess Kate and Prince William at the moment. Because now everything is seriously falling apart.
Disputes also happen in royal families. And so, at first glance, it's not at all unusual for there to be a row between the brothers. But what Harry writes is outrageous: during an argument at the beginning of 2019, William is said to have become so angry that he grabbed Harry by the shirt-collar, even breaking his necklace and pushed him to the ground.
The little brother's back was bleeding afterward, as he is said to have landed crashing on the dogs' porcelain bowl, but of course a nasty situation. Photos from the Netflix documentary prove that the Sussex only ever had steel bowls for their four-legged friends (dogs) in their kitchen. But even with this violent contradiction in the story, the stigma remains! The violent William, and brother Harry, is his innocent victim.
While the brothers, as Harry reports, have always had a difficult relationship, Kate was once the light at the end of the tunnel. "She was the sister I never had," writes the Duke of Sussex. But his relationship with Meghan changed everything.
A few days before the royal wedding in May 2018, an argument broke out. Meghan and Kate discussed the flower girls' dresses, but in the end, Meghan cried. With all the stress before a wedding, no wonder, Kate apologized with flowers and the matter was settled.
For the time being, when rumours turned the story around months later, allegedly Meghan made Kate cry, the Princess of Wales immediately admitted it wasn't so. But only in private. The palace wouldn't set the record straight, and Kate couldn't. For the English, royals have a firm rule. "Never complain, never explain." Still, Harry finds Kate's public silence unforgivable!
But now he himself has put William and Kate in this position again, because there are always two sides to a story, and they must never tell theirs.
Duchess Meghan is seen as a betrayal, who is now dragging the late Princess Diana's legacy through the mud.
Francis Tawiah (Duisburg - Germany)