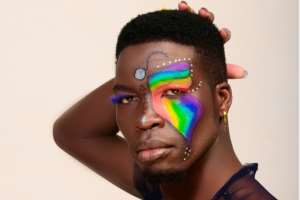 My chancing across the horrific news report of the brutal slaughter of the renowned Kenyan fashion designer and Gay Rights Activist, 24-year-old Mr. Edwin Chiloba, not only sent chills down my spine and repulsed my sense of human decency indescribably, it also drove starkly and eerily home to me the morally depraved and inexcusable barbarism of those Continental African Politicians, especially Ghanaian, Nigerian and Kenyan politicians and religious leaders, so-called, by the way, who have been virulently fanning the flames of Anti-LGBTQI+ hatred, instead of being studiously engaged in and focused on significantly and meaningfully improving the lives of their people. Mr. Chiloba's butchered body parts are reported to have been stuffed into a metal box and dumped beside a road near one of the suburban townships of Nairobi, Kenya's capital.
Now, I stand to be corrected here because I am writing this column about three weeks after reading about the brutal quartering up of the body of the victim (See "Prominent LGBTQ Activist Edwin Chiloba Found Dead in Metal Box" Daily Beast 1/6/23). And, oh, I also forgot to add that politicians in Uganda are equally guilty of the barbaric promotion of Anti-Gay and Lesbian animus. Indeed, a dozen, or so, years ago, I wrote and published an opinion piece on several Ghanaian media portals and got a call from Prof. Warren Throckmorton one stormy fall weekend. The caller identified himself as a fellow writer and promptly reported to me the following statement: "Prof. Kwame Okoampa-Ahoofe, The White House wants me to inform you that they read everything that you write and publish on human rights issues in Africa in the media."
"The White House," in this particular instance and context, is what literary critics and theorists call a "Metonymy." But it was also an unmistakable metaphor that referred directly to the Chief Resident of the most globally visible edifice and the most powerful leader of the putatively "Free World." That most powerful leader, of course, was none other than then-President Barack Hussein Obama. And I also recall the fact that Prof. Throckmorton's call came shortly before President Obama made his first official visit to the African Continent, as the newly elected first African-American President of the United States of America. Now, as I vividly recall, I had recently published an article in which I had extensively commented on the equally brutal murder of a 45-year-old Ugandan Gay-Rights Activist by a much younger homophobic man in his late twenties, perhaps 27 years old, who claimed in legal self-defense that he had been provoked to murder the renowned Gay-Rights Activist because the latter had propositioned the murderer and made other unwanted sexual advances towards him.
I had also recently written and published an article about the deliberate and systematic harassment of then-former Speaker of Ghana's Parliament Mr. Ebenezer Bagyina Seki-Hughes by the newly elected President John Evans Atta-Mills and the key operatives of the National Democratic Congress (NDC), a left-leaning fascist "revolutionary" political establishment with an unenviable history of the abduction and the Mafia-style assassination of Superior Court Judges. In retrospect, I suspect that it was my ideologically and morally trenchant commentary about the murderously vindictive political agenda of the Mills-Mahama-led regime of the National Democratic Congress that may very well have inspired President Obama's famous and most memorable declaration that the Emergent African Democracies, with unmistakable and particular reference to Ghana, were more in dire need of "Strong [Governance] Institutions" than "Strongmen." The obvious allusion to the "Strongman" African leader was, of course, none other than the late Chairman Jeremiah "Jerry" John Rawlings.
President Obama, who is of Kenyan paternal or agnatic descent, could very well have also been alluding to the perennially misguided and grossly misplaced priorities of Continental African Leaders. That even the erstwhile Western-European Colonial Powers from whom most of the Emergent African Democracies had inherited their statutory edicts proscribing same-sex relationships have come to healthily recognize the scientific and the ethical wrongheadedness of homophobia and Anti-LGBTQI+ proscription and demonization, ought to give African leaders prime grist for serious thought and cranial mastication, if there were, indeed, any such expression. Not surprisingly, it well appears that "Gay Bashing" has become a handy excuse and a convenient scapegoating distraction for our largely grossly incompetent and, for the most part, vision-bereft politicians and self-infatuated and morally decadent and God-Complex-Afflicted faux-religious leaders, so-called. But that Gay and Lesbian Bashing has become another cheap mantra of populist politicians makes us all an insufferably wayward and damn and downright pathetic lot.
*Visit my blog at: KwameOkoampaAhoofeJr
By Kwame Okoampa-Ahoofe, Jr., PhD
English Department, SUNY-Nassau
Garden City, New York
January 25, 2023
E-mail: [email protected]