Tanzanian opposition stalwart Tundu Lissu arrived back in his homeland on Wednesday after spending most of the past five years in exile following an assassination bid.
The one-time presidential candidate was greeted by supporters in the red, white and blue colours of his Chadema party, an AFP correspondent said.
Lissu, who was shot 16 times in 2017 and has spent most of the years since in Belgium, arrived on a flight from Brussels via Addis Ababa.
The 55-year-old had said in a video posted on Twitter from Brussels airport that he would head to an opposition rally to discuss "our issues as Tanzanians."
His return follows President Samia Suluhu Hassan's announcement this month that a ban on political rallies imposed by her hardline predecessor John Magufuli would be lifted, in an overture to the opposition.
"We cannot continue to endlessly live in exile," Lissu said in a speech broadcast live on YouTube and carried on local channels in Tanzania on January 13 when he announced his homecoming plans.
"I am optimistic that we will write a new chapter this year... 2023 is an important year in the history of our country."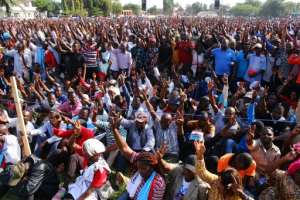 Tanzania's main opposition party Chadema held its first rally on Saturday since the lifting of a ban on such gatherings. By Michael JAMSON (AFP/File)
Chadema on Saturday held its first mass rally since the lifting of the 2016 ban, led by its leader Freeman Mbowe in the lakeside city of Mwanza.
The government's olive branch was cautiously welcomed by rights groups and the opposition as a boost for democracy, with Hassan overturning some of the authoritarian policies imposed by Magufuli.
'New beginning'
Lissu was last in Tanzania briefly in late 2020 contesting the election against Hassan's predecessor Magufuli, a strongman leader who died just five months after winning his second term.
The victory was disputed and the opposition called for protests. Lissu took refuge with diplomats after threats to his life, before escaping the country.
Under Magufuli, who was first elected in 2015 as a straight talking man of the people, political gatherings were outlawed, opposition leaders detained and media cowed.
Nicknamed the "Bulldozer" for his authoritarian leadership style, Magufuli's hardline policies and uncompromising governance saw Tanzania's reputation for stable democracy in the region badly damaged.
Lissu, an outspoken critic of Magufuli and the ruling CCM party, was shot while seated in his car in 2017 and spent the next few years recovering in Belgium.
Since Magufuli's sudden death of Magufuli in March 2021, Hassan has reversed some of his most controversial policies and promised reforms long demanded by the opposition.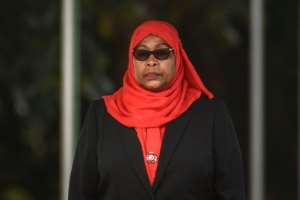 Tanzania's president Samia Suluhu Hassan has been rolling back some of the hardline policies of her predecessor. By - (AFP/File)
But hopes dimmed in July 2021 when Mbowe was arrested on terrorism charges. He was released after seven months but some critics labelled Hassan a dictator.
She sat down face-to-face with Lissu in Brussels in early 2022, again buoying hopes that change could be on the horizon.
Earlier this week, information minister said the government was planning to amend a media bill that critics say restricts freedom of expression, but gave no details of the proposed changes.
"President Samia Suluhu Hassan, through her government and party, have shown they are ready for a new journey. We need to demonstrate that we are also ready for that," Lissu said.
"I am coming home for the new beginning of our nation."