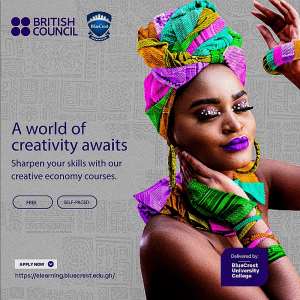 The British Council Ghana and BlueCrest University will launch the SoCreative Africa Learning Programme, a unique opportunity for young creative professionals to gain essential skills in the creative industries.
This online program will provide participants with a comprehensive understanding of the creative economy and its key drivers, as well as the skills needed to successfully navigate the industry. From content creation and project management to entrepreneurship and marketing, the program will cover a wide range of topics that are critical to building a career in the creative industries.
The program will be delivered entirely online and will be parallel led by leading industry professionals and academics from BlueCrest University. The program will also feature guest lectures and networking opportunities with industry leaders, providing participants with valuable insights and connections.
"The creative industries are a vital part of the global economy and employ millions of people worldwide," said Dr. Sujith Jayaprakash, Rector of the BlueCrest University. "This program is designed to give young professionals the skills and knowledge they need to succeed in this rapidly growing field. We are proud to be partnering with the British Council, one of the leading institutions in the creative arts, to deliver this program."
The Soo Creative program will be open to young professionals aged between 18 to 35 and will be delivered in English. Applications are now open and are welcome from anyone interested in building a career in the creative industry.
For more information on the SoCreative Africa E-Learning program, please visit the British Council website at https://communitytraining.britishcouncil.org and to apply for this program, visit https://elearning.bluecrest.edu.gh/