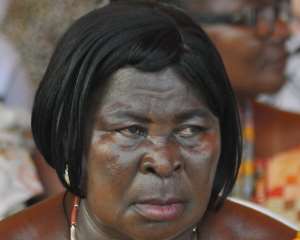 Madam Akua Donkor
Founder and Leader of the Ghana Freedom Party, Madam Akua Donkor says Ghanaians need to support the President, Nana Akufo Addo in his quest to construct the National Cathedral Project before his tenure ends.
In a telephone interview with the Correspondent, the farmer cum politician noted that Ghanaians particularly the opposition NDC are making unnecessary criticisms about the National Cathedral Project.
Akua Donkor noted that anything that is attached to the name of God attracts blessings.
The leader of the GFP argued that Ghana is noted as a very peaceful country due to its religious tolerance.
According to her, the religious nature of Ghanaians has contributed to the peace and stability of the country envied by many.
For this reason, she believes the project must be completed to the glory of God.
Akua Donkor noted that those criticising the President are only up for mischief and as such must put an end to it.
She noted that no matter the distraction, the cathedral would be built at all cost.
She used the opportunity to appeal to Ghanaians to contribute to the project.