President Emmanuel Macron on Sunday said Paris was awaiting clarifications from Burkina Faso after the African country's military regime said it wanted French troops to leave within a month.
Macron urged "a lot of prudence", saying there was "great confusion" over the remarks reported in the media and said military junta leader Ibrahim Traore needed to take a public stance.
"We are waiting for clarifications on the part of Mr Traore," he told reporters.
State news agency AIB reported on Saturday, "The Burkinabe government last Wednesday denounced the accord which has governed, since 2018, the presence of French armed forces on its territory."
The authorities in the former French colony had given France a month to complete its pull-out, it added.
A source close to the government clarified it was "not the severance of relations with France. The notification only concerns military cooperation agreements".
France has 400 special forces soldiers stationed in junta-ruled Burkina to battle a jihadist insurgency, but relations have deteriorated in recent months.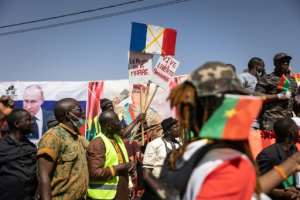 Protesters have regularly demanded France withdraw its troops from the Sahel country, with the latest demonstration Friday. By OLYMPIA DE MAISMONT (AFP)
Protesters have regularly demanded France withdraw its troops from the Sahel country, with the latest demonstration on Friday.
In early January, the French foreign ministry said it had received a letter from the junta asking for ambassador Luc Hallade to be replaced after he ruffled feathers with reports on the country's worsening security situation.
The tensions led Paris to dispatch deputy foreign minister Chrysoula Zacharopoulou to meet Burkina's president.
Burkina Faso is reeling from a jihadist insurgency that swept in from neighbouring Mali in 2015.
Traore seized power in a coup in late September, in the second military coup in the country in eight months.
As Burkina Faso seems to be seeking closer ties with Russia, France fears a repeat of its disastrous falling-out with Mali, from which it pulled out troops last year.
The Burkinabe military government has sought to reassure Paris that it does not intend to enlist the help of Russian paramilitary group Wagner to bolster its forces.
But French sources say a delegation from the mercenary group has visited the mineral-rich country.
French special forces could leave immediately if President Ibrahim Traore struck a deal with Wagner.
France's preferred option appears to be to redeploy its forces in the south of neighbouring Niger, where nearly 2,000 French soldiers are already stationed.