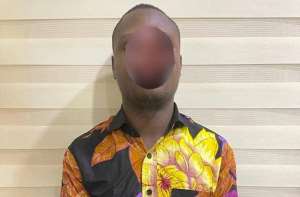 The Ghana Police Service has issued a press release giving an update on the Uber driver arrested this week suspected to be behind the audio tape making false allegations against some officers.
READ MORE: Uber driver behind audio tape making false allegations against some police officers planting marijuana on him arrested
In its release today, Friday, January 20, the Police said the suspect, Patrick Asiedu has been remanded after he was arraigned before the court.
"The court has remanded accused person, Patrick Asiedu alias "Dr" Patrick Asiedu, into Police custody.
"The accused was arraigned before the Court on 19th January 2023, following his arrest on 18th January, 2023 in connection with a viral audio tape in which he made some false claims against some police officers," parts of the statement issued by the police said.
The Police statement further added that the suspect will reappear before the court on January 31.