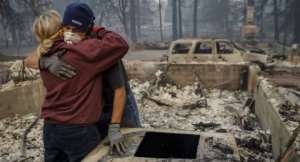 In November 2018, fire ravaged the US State of California. The most affected part was the beautiful town of Paradise. Virtually, everything standing was razed down by the unquenchable ravenous fire. People lost their homes, businesses and lives. The town became desolate. It took few courageous citizens to return to the debris and started building from the ashes.
Four years on, the British Broadcasting Corporation (BBC) has embarked on an assignment there in Paradise to interview about four thousand returnees who are relishing a rebirth of the beautiful Paradise they lived in with close to thirty thousand people.
One particular resident had a life-changing account of the fire disaster and its aftermath. The moral lessons therein has informed this write-up.
He said to the BBC interviewer: "prior to the fire outbreak, I lived a freak life. I drank all I could and abused drugs. When the fire took everything I owed from me, I came back to my senses and availed myself for rehabilitation. I came out clean and became employable. Today, I have returned to my beloved Paradise to rebuild what I have lost" (sic).
When all things were good, when the man walked in the company of rich residents of Paradise, it never occurred to him the damage he was doing to his body. It took the harshness of a disaster to restore him to his humanity.
MORAL LESSON
My native Goka people say: baabi ɔɔsɛe no na baabi ɔɔyɛ yie.
There's always a silver lining in a dark cloud, even in times of disaster.
Then also, it's when the darkness is deep that we see the stars shine.