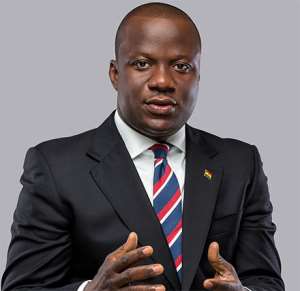 Samuel Abu Jinapor
The rate at which state lands have been encroached upon creates sometimes the semblance of an overbearing state of lawlessness in the country especially, in some urban settings.
Otherwise, why would individuals knowingly encroach upon state lands when there are prescribed consequences for such breaches.
We wonder whether the germane agencies are unable to stamp their authorities when such acts of lawlessness are being perpetrated. Could the breaches be carried out on the blind side of the managers responsible for overseeing such state possessions?
Be it as it may, it appears matters have reached a head and the Lands Commission, the state custodian of such properties, has eventually commenced a demolition exercise in selected parts of Accra where such encroachments have been noticed and are pronounced.
We commend the management of the commission for taking the decisive action. We, however, shudder to think that we are witnessing a nine-day wonder even though we hope that would not be the case.
The commission should be spared the usual interferences from influential persons whose demands cannot be turned down.
The subject under review is about the interest of the state and not individuals. State institutions can only work when they are spared interferences which can only constitute hurdles in their quest to deliver on their mandates.
Persons behind encroached state lands, we can bet, are busy pulling strings to thwart the efforts of the commission. It is worrying how we prevent state institutions from working yet expect them to be on top of issues.
There should be no surrender in the matter at hand. We recall a recent demand by some elites in Dagbon who complained about how similar encroachments and even sales of state lands to individuals from both aisles of politics in the country are being carried out.
Ghana, as a country, must grow in all departments of state. Management of land and its attendant challenges have been occasioned by a myriad of challenges. The factors militating against the proper execution of the mandates of relevant agencies are diverse. These factors serve the interest of selfish individuals who abuse their relationship with persons wielding power in society.
Unless we resolve to reverse the status quo, we would continue to be in this state of hopelessness as far as development is concerned.
We stand shoulder to shoulder with the Lands Commission in its bid to restore decency in this department of state.
Even disturbing and ironic is the fact that some of the encroachers are persons who understand the implications of their actions highly educated persons who have served the state in various capacities over many years.
They are emboldened to perpetrate the breaches because they know that the laws are hardly applied and besides, they know that as soon as the constructions they manage to put up reach a certain level, demolitions are out of the question.
This time, demolitions, where it is necessary, should be enforced, provided such is within the confines of the law.
Source: Daily Guide