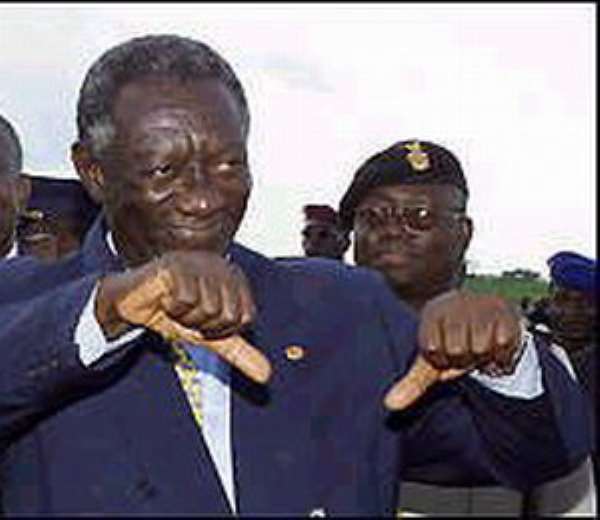 PRESIDENT J.A. Kufuor yesterday suggested that loans granted to students in tertiary institutions should be based on the programme being pursued by the student.He said it was unfair to grant social science and medical science students, for example the same amount of money as loan because the cost involved in their courses differ.
President Kufuor made the suggestion when he swore into office members of the Board of Trustees of the Students Loan Trust Fund at the Castle.
"The idea of flat payment to students should be a thing of the past. You should take into account the course being pursued by the student," he said.
The president urged the trustees to design ways of ensuring prompt repayment of the loans, adding that they could liaise with Ghana's embassies abroad to track down beneficiaries who might have left the country upon the completion of their courses in the country.
Though the interest paid on the loan is not meant for profit, he said the trustees should take into account the inflationary rate since that was the only way the scheme could be sustained.
President Kufuor also called on the trustees to ensure that other students in the private tertiary institutions also benefit from the scheme.
He said it was only when the scheme was well managed that the good intentions of extending credit to students would not be undermined.
"If the scheme is undermined, our vision to develop our human resource base would also be undermined," he said.
The chairman of the Trust, Mr Kobina Quansah, former managing director of Barclays Bank, thanked the President for the honour done them and assured him that they would work hard to ensure the success of the scheme.
Other members are Mrs Kokui Adu, University of Ghana, Mrs Zuwera Ibrahim Mohammed, manager, Ghana office of the Association of Chartered Certified Accountants, Mr Asare Akufo, managing director of HFC Bank, Daniel Boateng Ansong of the GETFund Secretariat and Ms Ama Serwaa Dapaah, Social Investment Fund.
The rest are Mr Kert Andrew Anerty, National Union of Ghana Students (NUGS), Mr Anthony Felia Hammond, VALCO Trust Fund, Mr Ras Boateng, Deputy Director General of SSNIT, Mr Charles Otoo, Ghana Education Service and Mr Charles Martey, Ministry of Education and Sports.