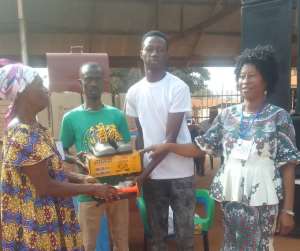 A non-profit-making organisation, Manna Education and Development Foundation, is currently mobilising all interested underprivileged youth within the Sunyani Municipality for free apprenticeship training.
The NGO is registering these youth in places such as Kotokrom, Yawhima, Abesim and Atronie and their surrounding communities for free apprenticeship training in hairdressing, sewing, electrical installation and other vocations based on a beneficiary's interest.
Those interested in furthering their education, especially in the area of Technical and Vocational Education and Training (TVET), are also assisted to do so.
About 30 beneficiaries of this assistance, who constitute the first batch of hundreds of people to also gain from the package, have been presented with all the tools required for them to immediately start the apprenticeship training while their apprenticeship fee have also been fully paid.
The training kits presented to them run into more than Ghc 60,000.00.
The beneficiaries could not hide their joy as they showered praises on the Founder of the Manna Education and Development Foundation, Dr. Janet Baah, a U.K-based Ghanaian Councillor at the Lewes Council for her care, support and timely intervention which would bring a great transformation into their lives.
Monitoring
At the presentation ceremony at Kotokrom near Sunyani, an official of Manna Education and Development Foundation, Madam Mary Alhassan, advised the beneficiaries to attach maximum seriousness to their training so they successfully pass out in future and lead decent and independent lives.
She said the Foundation will keep track and monitor their progress from time to time and would not hesitate to withdraw its support to any apprentice found to be lazy and unserious about the training.
The twin sister of Dr. Janet Baah, Mrs. Esther Obeng Takyiwaa, underscored the Foundation's resolve to improve the wellbeing of people, especially the youth as the government alone cannot shoulder all the responsibility.
Training centre
She disclosed that the Foundation had secured a large parcel of land in Sunyani for the construction of a skills training centre to provide free vocational training to the general public.
The Assembly member for Kotokrom, Mr. Dramani Mahama, expressed his appreciation to Dr. Janet Baah and her Foundation for the support and added his voice to the call on the beneficiaries to attach maximum seriousness to the training.
He called for more of such support from other organisations to augment government's efforts at creating jobs for the people.
One of the beneficiaries, 22-year-old Victoria Gompaw, on behalf of her colleagues thanked Dr. Janet Baah and her Foundation for their timely intervention saying, "we can now hope for a brighter future."