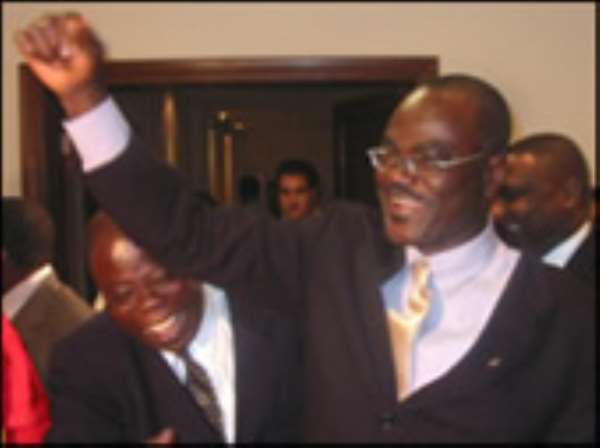 The Chairman of the Local Organising Committee for CAN 2008 has urged the country's private sector to take advantage of the numerous business opportunities on offer from Ghana's hosting of the African Cup of Nations Tournament.
Dr.Kofi Amoah told Metro Sports that following Ghana's bid success to host the tournament, it was in the expectation that the private sector would take full advantage of massive business potential that came with it.
President Kufuor, who was inaugurated CAN 2008 Business Club said: "It is not for nothing that bidding to stage international sporting events is now so competitive and attracts so much public notice.
Sydney 2000, Manchester 2002 and Germany 2006 were all huge business success stories."

The cream of Ghana's business gurus were present at the seat of government at the Castle for the Ghana 2008 African Cup of Nations Business Club launch.

Dr Amoah, in what has now become a characteristic passionate rallying call said CAN 2008 would be the best platform to unveil: "Our dynamic society and to showcase our business potential for investments."
There is no such thing as an elitist businesses only club,this is a tremendous opportunity for all Ghanaians to have a stake and a say in the business of the Nations Cup.

Meanwhile the Agricultural Development Bank (ADB) presented a cheque for 400,000 dollars to become a founding headline sponsor.
The Club aims at preparing and organizing the Ghanaian business community to properly tap into the tournament's economic opportunities.
It has set up a 25-member working group for the purpose. The Club has various categories of members and this is determined by the contribution paid.
Those who gave 400,000 dollars were classified as founding headline sponsors while those who paid 250,000 dollars become founding members with 150,000 dollars contributors made platinum members.
Gold Members pay 100,000 dollars, Silver members, 50,000 dollars while 25,000 dollars and 5,000 dollars contributors join the bronze and copper membership category, respectively.
Papa Owusu-Ankomah, Minister of Education, Science and Sports, said it was through partnerships that Ghana could enjoy the full economic benefits of the event.
He said CAN 2008 provided the opportunity to market the economy and that the Government would do everything possible to support the private sector to make the most of it.