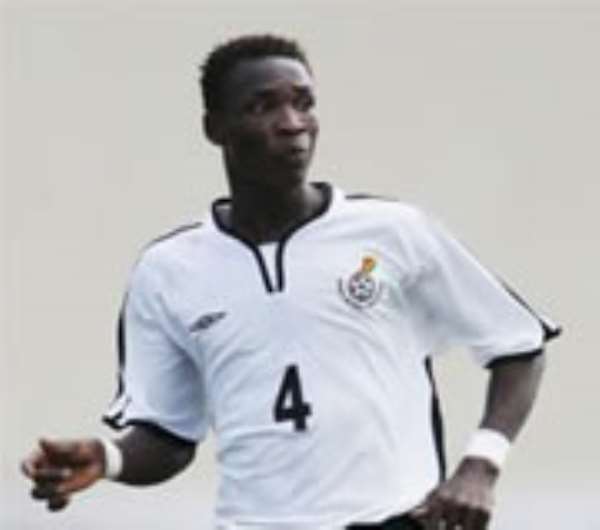 Black Stars defender John Paintsil has vowed to win back his place in the first team of West Ham with the arrival of new coach Alan Curbishley.
Granting his first major interview since his return to premiership action, Paintsil confessed that the last few weeks have been torrid.
"It has not been easy for me but i am a fighter and i am learning about the premiership each day"

It may not just be Paintsil alone who is learning about the volatile nature of the English Premiership as former coach Alan Pardew forund out when he was sacked a week ago.
But his dismissal has drawn a sympathetic response from Paintsil.

"It is unfortunate that the manager had to go but that is the way football works"

Curbishley had the perfect start by guiding his side to a shock 1-0 win over
Manchester United on sunday.

The win, Curbishley's first over United as a manager in 16 attempts, failed to lift West Ham out of the bottom three but Upton Park was full of hope at beating the drop after the final whistle.

Even though the Ghanaian international has struggled to pin down a regular position since undergoing knee surgery in October, he believes his fortunes are about to change.
"The manager says he will give all of us a fresh start so it is like i am about to start all over again and i cannot wait to get in the thick of action"

Paintsil hopes to be called to action against Fulham this weekend.

Meanwhile in a BBC report, it has been revealed that West Ham captain Nigel Reo-Coker has received hate mail during the club's recent run of bad form.
Some fans blamed him for the sacking of boss Alan Pardew and hate mail was sent to the club before he scored Sunday's winner against Manchester United.
"It got to a boiling point for a young man," his agent Tony Finnigan told BBC Five Live Sport.
"I told him to stick it in the dustbin and get ready to go to war against one of the best teams in Europe."
Thankfully John Paintsil has been spared that sort of ordeal and the former Liberty Professionals and Berekum Arsenals star hope to repay the loyalty with some winning performances.
Paintsil has asked his fans in Ghana to continue to pray for him and wishes them all a merry Christmas and a fabulous new year.