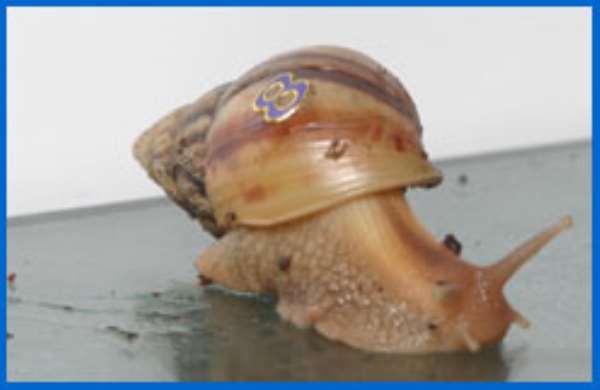 About 65 farmers in the Agona East Constituency of the Central Region, has participated in a workshop to update their knowledge in snail farming.
The snail project, initiated by the Member of Parliament for the area Mr John Kwesi Agyabeng was to help farmers in the constituency to venture into snails farming in addition to their normal farming activities.
In a speech read on his behalf by Mr Kofi Afari Gyan, Assemblyman for the Namawura Electoral Area, Mr Agyabeng said the farmers would be grouped into small units of five people per group.
Mr Agyabeng said each group would receive five million cedis to start the project after their training to enable them to the farming effectively.
He said he has earmarked 65 million cedis from his share of the MP's Common Fund to support the groups.
The MP said the project was to supplement the efforts of the farmers to earn additional income to reduce poverty.
Mr Agyabeng assured that the snail project would be extended to all farmers in the constituency, and that frantic efforts were being made to look for market for their produce.
Mr Kwesi Jackson, Agona District Crops Officer of the Ministry of Food and Agriculture (MOFA) said snail rearing is a lucrative business because the season has no end, adding that they should not take it as a hobby, but rather they should take it serious to help generate more income.
He pointed out that apart from using snails for food, it is also a medicine for the treatment of hypertension, anaemia, piles, sexual weakness as well as its shells which could be used for white wash paints.
Mr Jackson urged the farmers to take the training workshop serious for their own benefit.
Mr Samuel Ankomah, Agona District Deputy Director of Agriculture assured the farmers that his outfit would continue to provide technical assistance to farmers in order to increase productivity.