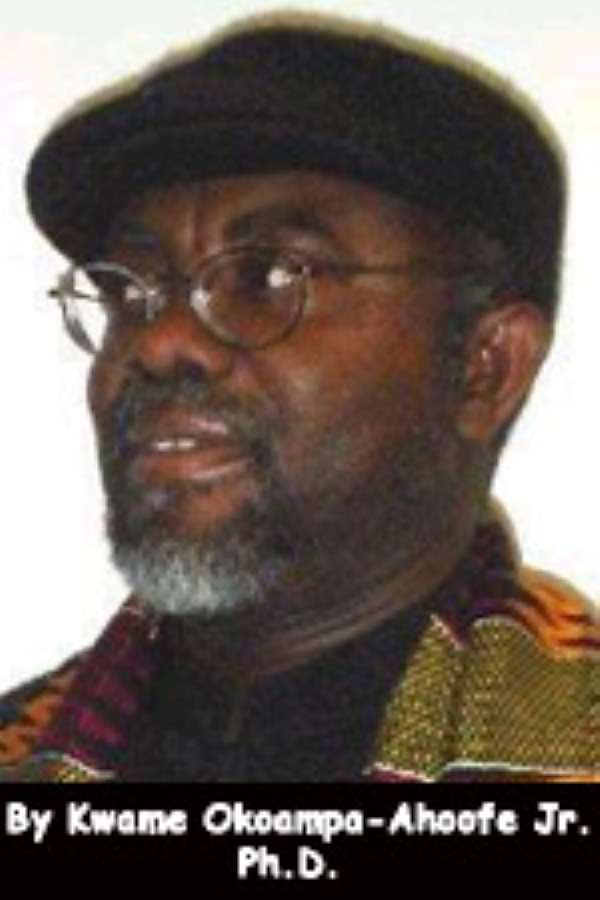 In the lead-up to their "congress" in the Northern Regional Capital of Tamale, National Democratic Congress presidential aspirant Dr. Ekwow Spio-Garbrah was reported to be claiming that the Party founded by the bloodiest dictator in postcolonial Ghanaian history, in order to clinch the presidency come 2008, needed "a charismatic candidate who has vision."

Perhaps somebody ought to have informed Dr. Garbrah, before hand, that twenty years of being suckered by a "charismatic" Mr. Jeremiah John Rawlings did not haul Ghanaians out of the Stygian socioeconomic and cultural morass bequeathed us by Mr. Probity And Accountability. (Still, his apparent zeal to becoming a Second Rawlings should be more than enough in telling Ghanaians just what "vision" Dr. Spio-Garbrah has in store for them).

Even more significantly, at least as reported by the Ghana News Agency (GNA), is the fact that Dr. Spio-Garbrah woefully failed to explain to the rest of us, his countrymen and women, just how it came about that twenty years of P/NDC "Visionary Dictatorship" did absolutely zip (nothing!) to improve the quality of life of the proverbial "average Ghanaian." Of course, we are far from being ignorant of the fact that the thieving upper echelons of the so-called Provisional National Democratic Congress amassed ineffable pelf in much the same way that the top brass of the erstwhile Convention People's Party did even as they exhorted their fellow citizens to "Tighten Your Belts!"

Dr. Spio-Garbrah also went on, according to the GNA report, to cavalierly assert that "the race for the flagbearership of the Party is not one of 'Long Service Award or about Sympathy' [but rather, that it was a matter] of a candidate who had the right qualities and stood in a better stead to wrest[ing] power from the NPP" (Ghanaweb.com 11/26/06).

Here, again, one wonders where the chief executive officer of the Commonwealth Telecommunications Organization (CTO) was when Mr. Rawlings, his mentor, was "charismatically" shooting his way to power and then pretending to the rest of the world that his was a popular mandate. But the most risible dimension of the entire "Garbrah Charade" is that having rudely and crassly impugned the political credentials of Professor John Evans Atta Mills, to the damnable effect of sneering that being nominated presidential candidate of the NDC was not a facile matter of being charitably offered a "long-service award or sympathy vote," Dr. Garbrah then proceeded, rather cynically, to catalogue a litany of his "service" credentials (minister of state, diplomat and corporate scam-artist), thereby almost instantaneously negating the very logic of his own argument. Not that any avid student of postcolonial Ghanaian politics has had any palpable reason, contrary to what the P/NDC hacks have conveniently managed to fool themselves into thinking, that among their four officially known aspirants to the NDC presidential candidature, there is even one among the pack who could be aptly described as "a thinker," rather than "a brazen opportunist."

For starters, there is former Vice-President John Evans Atta Mills, a pathologically alienated cultural mulatto and twice-trounced presidential candidate, who gleefully presided over the total collapse of the Ghanaian economy by serving as Commissioner of the Internal Revenue Service (GIRS). Indeed, in another country with a keener sense of justice, Professor Mills would have been campaigning from jail!

But that both Professor Mills and Dr. Garbrah do not qualify for the Ghanaian presidency revolves around several crucial factors. Firstly, both are brazen and impudent opportunists and cowards who chose to sheepishly hang onto the half-Scottish coattails of a bloody mercenary dictator rather than haunch down the proverbial trenches in order to patriotically fight for a clean and civil democracy. In essence, if any Ghanaian voter thinks that any of the four bloody P/NDC aspirants for Ghana's presidency is apt to looking after the collective interests of the citizenry, that voter may well be living in a fool's paradise.

The second factor has to do with the apparently staggering mental and ideological retardation of Professor Mills – Did I hear somebody call him "Atta-Pills"? – who is reported to be still drunkenly proud of the fact that during his high-school days, the former Vice-President was a card-carrying member of something called the National Socialist Students' Organization (NASSO). But even more daunting is the fact that Professor Mills also proudly sports a resume which eerily identifies him as an upper-class graduate of a Neo-Nazi academy called the Kwame Nkrumah Ideological Institute, and that the latter terrorist training camp actually equipped Professor Mills for "future leadership." Well, this is "the future," and so far Ghanaians, particularly those from his own Central Region, have twice overwhelmingly demonstrated at the polls that they want no part of this complacent graduate of the proto-Young Pioneer Institute.

Interestingly, I got to initially learn about a blubber-mouth Ghanaian ambassador in Washington, D. C., during the early 1990s whose "undiplomatic" ranting – no pun intended, of course – was reported to have so irked then-President William Jefferson (Bill) Clinton that he promptly demanded the removal of Dr. Spio-Garbrah from Mr. Clinton's neighborhood. In sum, those of his ideological ilk who have recently described Dr. Spio-Garbrah as being insufferably "arrogant and full of himself" are almost too late in coming to knowledge about, perhaps, the sharpest thorn in the side of Professor Mills. The guy, while "serving" as Mr. Rawlings' go-fer in the American capital appeared to have convinced himself, rather curiously, that he was the substantive "Shadow-President" of the United States, so much such that Dr. Spio-Garbrah kept haranguing President Clinton and the U. S. Congress. Once, Dr. Spio-Garbrah even had the diplomatic immodesty of holding a press conference and summarily and unilaterally "ordering" U. S. troops to go to Liberia and stanch the internecine blood-letting. I believe it was about this time that Mr. Clinton urged Mr. Rawlings to recall his water-boy.
I was, personally, so incensed by Dr. Spio-Garbrah's diplomatic contretemps that I promptly fired off a front-page missive to the editor of the New York City Sun, a now-defunct African-American weekly newspaper, urging the patently neocolonialist Ambassador Garbrah to stop embarrassing Ghanaians. He would shortly tell my kid-sister, confronted with the lurid fact of his crassly undiplomatic demeanor, that he had been quoted out of context.
The anonymous Spio-Garbrah profile on Ghanaweb.com had this to say about its newsmaker: "This perceived arrogance is compensated [?] for by his oratorical skills. A gifted orator, he hardly loses an argument. He shoots his mouth like lightning and articulates his points with remarkable fluency and command of the English Language." Sounds like a veritable Nkrumaist reporter and reportage to me. Needless to say, it also makes me sick to the stomach!
But that even though rhapsodically characterized as a first-rate communicator, our anonymous reporter also observes that as Information Minister Dr. Garbrah showed himself to be so incompetent that "he had to be shifted to the Education Ministry…[in order] for tranquility to prevail in the government's information management front." A botching cobbler who gets promoted to a far more intellectually taxing portfolio of automotive designer? And you wonder why recently Ghanaian elementary school pupils tested butt-naked last in an international language and science examination?
But dear reader, you just hold your breath for just one last time, till you are done reading the following crap: "Prof. Atta Mills is no stranger to NDC politics. He has been [at] the forefront of the party's resurgence to reclaim[ing] political power from the NPP since losing the key to the Castle in 2000." Thank God that President Kufuor is in the process of converting the P/NDC torture edifice and former slave castle into a Museum of Human Rights Violations!
*Kwame Okoampa-Ahoofe, Jr., Ph.D., teaches English and Journalism at Nassau Community College of the State University of New York, Garden City. E-mail: [email protected]