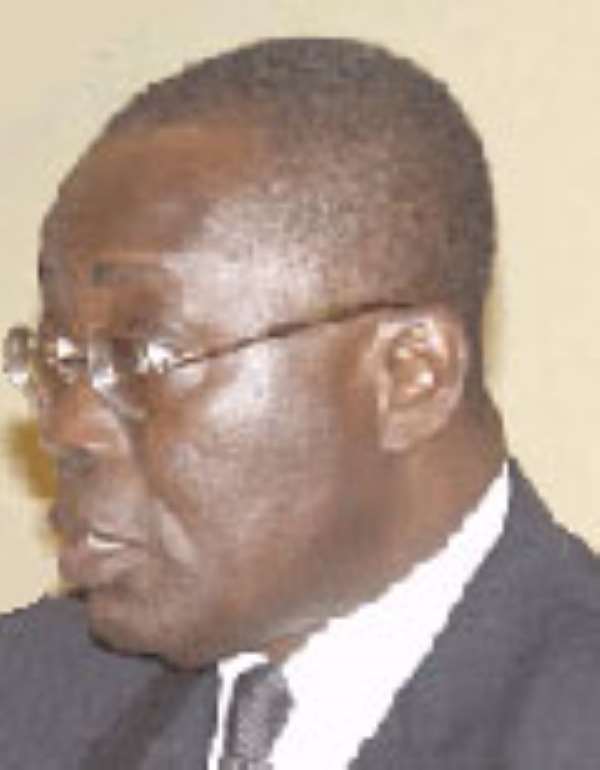 The Minister for Foreign Affairs, Nana Addo Dankwa Akufo-Addo has fired back at his critics, as other competing camps for the flagbearership of the New Patriotic Party are alleged to be taking shots at him, in the hope of deflating his position as a front-runner.
Information gathered by The Statesman is that, though he seems to be receiving the brunt of the in-house mudslinging, the Foreign Minister is not alone as a victim. Aliu Mahama, Hackman Owusu-Agyemang, Yaw Osafo-Maafo and Kwame Addo Kufuor have also become targets, giving a clear indication of how nasty this crowded scramble for President Kufuor's seat within the NPP can get.
In his last two regional tours (to Volta and Central Regions) some party executives complained to Nana Akufo-Addo of their worries about the pull-him-down messages that already seem to be defining the campaign strategy of some of the reported 16 aspirants.
The common charge is that, he is arrogant. This Nana Akufo-Addo has described as "baseless propaganda" with FONAA spokesperson Mustapha Hamid, explaining that "those who feel threatened by him are conveniently misinterpreting his self-confidence for arrogance. But, they know Nana is one of the simplest politicians you can come across in spite of his privileged upbringing."
The Foreign Minister is urging party loyalists not to entertain a campaign style that seeks to "attack opponents rather than tackle issues." He stated, "I know people are saying all sorts of things about me. That I am arrogant… I've also got things to say about them! But, that is not where my interest is. There's serious work to be done."
He continued: "When we were in the trenches and fighting on the side of the ordinary people of this country for democracy and good governance, they did not call us arrogant then. Indeed they were hiding under their beds!" he said, to loud cheers from the crowd.
"Today there is freedom so they can afford to come out of hiding and call us arrogant" he added. In the previous week at Hohoe, he was asked by a constituency executive to explain why a man who fought for greater press freedom and passed a bill to repeal the Criminal Libel Law could now be singled out "by your old friend Kofi Coomson," for media attack.
His response was swift. "I think you'd have to ask him about that. I don't have any problem with him. But, he is entitled to his own opinion and equally so, to change his opinion at any time." The publisher of the Chronicle had said, among other things, that he would not be able to sleep if Nana Akufo-Addo was elected the next President. Ironically,
Mr Coomson has also come out to refute claims that Nana Akufo-Addo is an arrogant person.
Moving on to speak to constituency executives in the Central Region during the weekend, Nana Akufo-Addo said that leadership is not premised on petty biases of age, ethnicity, religion and other such insignificant considerations. Nana Akufo-Addo explained to the party executives the need for the NPP to retain power in 2008 to prevent the National Democratic Congress from sending the nation back. He prescribed a formula for that much-needed victory in 2008: a strong party, a winnable candidate.
"We don't just need somebody to bear the party's flag, we need a winnable candidate and a political leader who can win victory for the party in 2008 and further more to inspire the millions of our people and take the country to the next stage of development from where President Kufuor will stop," he maintained.
On the claim by some people that Ghana now needs a young leader, Nana Akufo-Addo contested that the business of getting a flagbearer for the NPP has nothing to do with whether one is young or old - the dynamism of ones mind is not necessarily determined by how many years one has clocked on this planet, he stated. There have been bad old men and bad young men. There have been good old men and good young men. "What is important is vision, vision, and more vision," he said; adding "and the practical knowledge and courage to implement that vision."
"It's about whether the person is ready with the experience, conviction, vision and courage to lead our party, government and nation. After all, just as we have irresponsible elderly people, we also have irresponsible youth." "There was a time in this country when thirty year olds held sway. Indeed they ruled us for the better part of their lives. What came of their leadership?" asked he.
"The fact that this country is where it is today is largely due to their twenty years of misrule," he underlined, with unalloyed reference to former head of state Rawlings and others like Totobi Quakye.
Rather, Nana Akufo-Addo called on delegates of the party to consider track record, experience, exposure, vision, decisiveness, commitment to the ideals of the party and commitment to democracy and the rule of law as guiding principles for the election of a flag-bearer.
Nana Akufo-Addo has completed a tour of all 19 constituencies in the Central Region, where he sold his message of unity and leadership to the executives of the constituencies. With the successful completion of the Central Region tour, it brings to six the number of Regions that the Foreign Minister has toured. The NPP presidential hopeful has already toured the Upper East, Upper West, Northern, Brong-Ahafo and Volta Regions.
Nana Akufo-Addo assured the executives that he will work to ensure victory for the party in the 2008 polls. He said, "this is critical if we are not to lose all the gains that the country has made under the able and capable leadership of President John Agyekum Kufuor."
Nana Akufo-Addo therefore called on them to ensure that they choose a person capable of winning the poll in 2008. "We are not just looking for a leader for the party, but a leader for the nation as well," he said. He therefore called on delegates to choose a candidate who can extend the boundaries of the party and engage everybody in a dialogue for a more solidified nation building.
According to Nana Akufo-Addo, executives of the party should insist on the highest standards of decency from aspirants and hold them to account on what they say. "You should set the ground rules for us to operate. Don't accept mediocrity," he told his audience to thunderous applause.
And to charges of his perceived combativeness, "Minpe esisie" (I don't like cheats) he said, with the kind of forcefulness which defined his political platform style in the past. He says his dream is of a Ghana where people make a binding commitment to live according to the dictates of the law, respecting each other and working together with a can-do spirit for accelerated development.