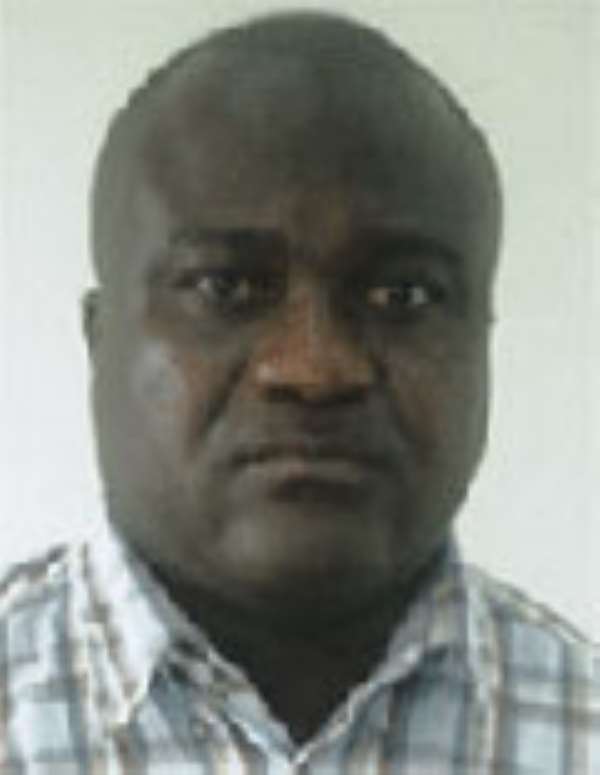 Another high profile arrest has been recorded in the anti-drug war in Ghana following the arrest of a traditional ruler and seven others with cocaine in separate incidents on varoius dates at the Kotoka International Airport (KIA).
A ninth suspect, Ibrahim Lawani, was picked up in Amsterdam after outwitting the security at KIA. Airport security said Nana Kwame Bonsu, the Akyempimhene of Agogo Traditional Area in the Ashanti Region, had concealed the substance in three tins of palm soup. Known in private life as Toddy Osei Bonsu, Nana Bonsu was domiciled in Holland and was installed the Akyempimhene of Agogo last August.
Upon his arrest on December 6, 2006, he told the airport security that he was given the items by a woman he named as Nana Serwaah, whom he claimed he had never met before, to be given to her brother in Amsterdam. He and the other suspects, including a German, Frank Heyne, are all in custody pending further investigations. The rest are Margaret Abla Amewonyrui, Janet Afeme, Elvis Chukwunenye Ozurumba, Albert Acquah, Francis Erskine and Emmanuel Mmuoloo Anozie.
Lawani was arrested in Amsterdam after he had sneaked into the aircraft unnoticed but the security in Accra quickly informed its counterparts in Amsterdam to be on the lookout for him. Margaret and Janet, who both hold Dutch passports, had concealed 2.7 kilogrammes of cocaine each in the suits they were wearing on the day of their arrest.
The Executive Secretary of the Narcotics Control Board (NACOB), Major-General Richardson Baiden, told the Daily Graphic that both Margaret and Janet were arrested on the same day, November 30, 2006. With regard to the German, Heyne, the executive secretary said the suspect, who was resident in Nairobi, Kenya, was arrested on December 10, this year with 7.5 kilogrammes of cocaine concealed in his travelling bag.
He said Heyne, who was in transit, was schedule to make another stopover in Addis Ababa, Ethiopia, before heading for Kenya. Major-Gen Baiden said Acquah and Erskine, both resident in Barcelona, Spain, were arrested on November 27, 2006 after the airport security detected that they had swallowed some pellets of cocaine. He said besides the 29 pellets which Albert had swallowed, he had also inserted two large ones in his anus, while Francis expelled 56 pellets after their arrest.
The executive secretary said Ozurumba was arrested on December 5, 2005 on his arrival from Kabul, Afghanistan, having swallowed 36 pellets of cocaine, while Anozie was arrested with 3.5 kilogrammes of cocaine concealed in his suitcase. Major-Gen Baiden said Lawani came to intelligence focus after the aircraft had taken off for Amsterdam but the security operatives quickly notified their counterparts in Amsterdam to arrest him.
Lawani, he said, had in his possession 2.07 kilogrammes of cocaine. He said the Dutch authorities, after arresting Lawani, checked the suspect's profile, only to detect that that was the second time he was being arrested. That, he said, made the Dutch authorities very happy, since they had anticipated that Lawani would reform after his earlier arrest in 2004. Major-Gen Baiden called for budgetary support for the early completion of the office complex of NACOB to enhance its operations.
He said if NACOB was adequately resourced, "we should be doing more than this". The leader of Operation Westbridge, with whom NACOB was collaborating in the exercise, described the first phase of their operation as very successful. He said although the team was expected to use the period to settle down and get acquainted with the personnel and operations at the KIA, the arrests so far gave them encouragement that the entire programme would be successful.
The leader, who sought anonymity, said the support and assistance of the Minister of National Security, Mr Francis Poku, and the Aviation Minister, Ms Gloria Akuffo, were so amazing. He said the ministers not only visited them constantly to find out their challenges but also kept in touch on telephone to ensure a successful operation.
He said that drug trafficking was an international issue which required international co-operation to combat.
"We are continuing to work closely with other countries, including EU countries, to monitor trends and methods of smuggling," he said.
The government, in October this year, launched Operation Westbridge, with the support of the UK government, to fight the drug menace and redeem the country's image from the tag as an international hub for drug trafficking. Operation Westbridge is a response from the UK government to a request by Ghana to help prevent the onward transport of narcotics to Europe and elsewhere.