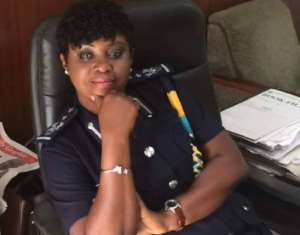 A group calling itself Loyalists of the ruling New Patriotic Party (NPP) is up in arms against the appointment of Assistant Commissioner of Customs Gloria Mercy Farmar as the head of the Customs Division of the Ghana Revenue Authority at Tema Harbour as they called on the President to revoke it with immediate effect.
The group in a statement issued and signed by the Coordinator, Bernard Asiedu Acheampong said, "the Assistant Commissioner of Customs, Ms. Gloria Farmar Mercy, as the head of Customs Division at Tema Harbour, is a known NDC activist and she is technically deficient to head Tema Customs, the main revenue mobilization center of Customs".
According to the statement, 'In these challenging times when the NPP Government needs adequate revenue to undertake projects which would make it easier for the party to Break the 8, it would be suicidal to appoint a known NDC activist like Ms. Farmar, to head a prime revenue mobilization area like Tema Port".
The allegations are coming on the heels of similar ones against the acting Customs Commissioner, Seidu who is also believed to have a strong links with the NDC.
The statement alleged that Ms. Farmar is unfit for the job not because she is an NDC ACTIVIST. She is also technically incompetent to handle Tema Customs. She is an investigator and has no command over customs procedures. She only became a staff of the operations department of Customs when she rose to the management level".
"Because she has little knowledge of customs procedures, she fights with her subordinates. Thus, creating the impression that she is tough and disciplined. Her style of administration is intimidation and creation of inner-group teams".
"Indeed, when she was the sector commander in Takoradi, she sidelined her immediate subordinates and worked with non-management members. This is a fact which can easily be verified from her former station".
The statement added that "Aside from being an NDC activist and technically deficient, Ms. Farmar is not trustworthy. Your Excellency, you may recall that in 2021, Ms. Farmar secretly recorded Col Damoah (Rtd) when he had some discussions with her on phone".
"She made their private conversation public by sharing it with news portals and social media platforms. She blatantly violated the 'oath of secrecy' required by public servants. She leaks information just to make the government unpopular. Do we know who and what she will record next?".
"Tema customs is the Centre of customs operations in Ghana. It is often referred to as the customs university and the "bread basket of customs" regarding revenue targets because when Tema achieves its revenue target, the nation meets its revenue obligation. Therefore, the commander must be technically competent, a good administrator, and someone who shares the vision of the government of the day, and is liked by the staff. Ms. Farmar is the opposite of these attributes".
"It is worthy to note that this is not the first time Ms. Farmar has lobbied to head Tema Customs. She tried during the tenure of Col Kwadwo Domoah Rtd – a former commissioner of Customs but failed. We raised similar concerns, and the national security report exposed her. She was then made the Takoradi customs boss".
"Mr. President, the NDC is using every means possible to infiltrate your administration by pushing their loyalists to relevant positions. In 2021, Col Kwadwo Damoah (Rtd) appointed Assistant Commissioner, Appiah-Warden Junior, as the customs boss in Tema, we raised similar concerns – NDC activism, incompetence, intimidation of staff, and lack of cooperation with other agencies. Col Kwadwo Damoah conducted his investigations and, within 24 hours, reversed the appointment of Appiah-Warden Junior as the Tema customs head" the group stated.
They claimed that "Ms. Farmar's issues are worse than Appiah-Warden Junior's"
"Ms. Farmar is left with only eight (8) months to go on retirement, hence, she would not do anything good for the government than to disrupt revenue mobilization and make things difficult for agents and importers, to make the government unpopular, thereby brightening the chances of the NDC in 2024".
"We have less than two (2) years to elections, hence, whatever appointment the government does, should lure the party's chances. Mr. President, we can assure you that with Ms. Farmar as head of Customs at Tema Port, your government will not achieve its revenue target in 2023" the group underscored.
–DGN online