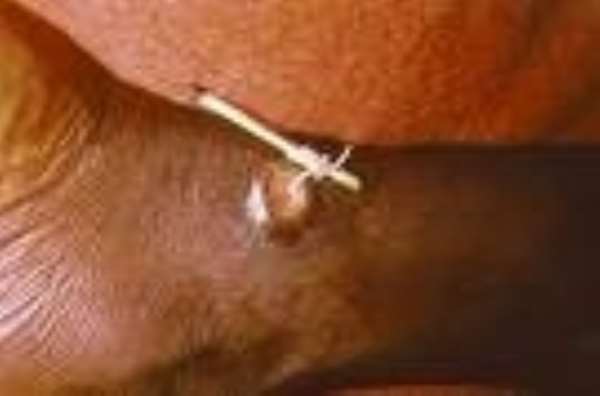 The Paramount Chief of Jantong Traditional Area in the East Gonja District, Ewuntomah Saaka, has instituted byelaws to impose fines on people who deliberately infest water sources.
The measure is to help eradicate the guinea worm from his paramountcy
He said henceforth persons infested with the disease but refuse to attend the Guinea Worm Containment Centre for treatment would be forced to go to the Centre by members of the community and he or she would be made to pay a fine of 50,000 cedis.
Persons who are already infested with the disease and deliberately infest water source would pay a 20,000-cedi fine while guinea worm Zonal Coordinators and Community Volunteers who condone with such infected persons would pay a similar fine.
Jantong-Wura Saaka announced these fines at a durbar organised in honour of Miss Lamisi Mbillah, the 2005 Miss Ghana, who is on a four-day tour of guinea worm endemic communities in the Northern Region.
Miss Mbillah appealed to the community to support the chief to enforce the byelaws to help eradicate the disease from the area.
"Let us ensure that we use these byelaws to come out as the first community in the Northern Region to eradicate the guinea worm", she said,
Miss Mbillah urged women to play an active role in the eradication efforts by putting into practice the methods and techniques taught them by health workers.
She appealed to persons infested with the disease not to feel shy or stigmatized but to report to the containment centre for treatment.
Dr. Seidu Korkor, National Programme Manager, Guinea Worm Eradication Programme, said the government had provided funds for the treatment of the disease free of charge.
He appealed to infected persons not to use the lack of money as an excuse to refuse to attend the containment centres for treatment.
Mr. Gilbert Dery, Northern Regional Programme Manager of the Guinea Worm Eradication Programme, said the disease was not only affecting the progress of education of the children but also agricultural productivity and urged the people to be more committed to its eradication.