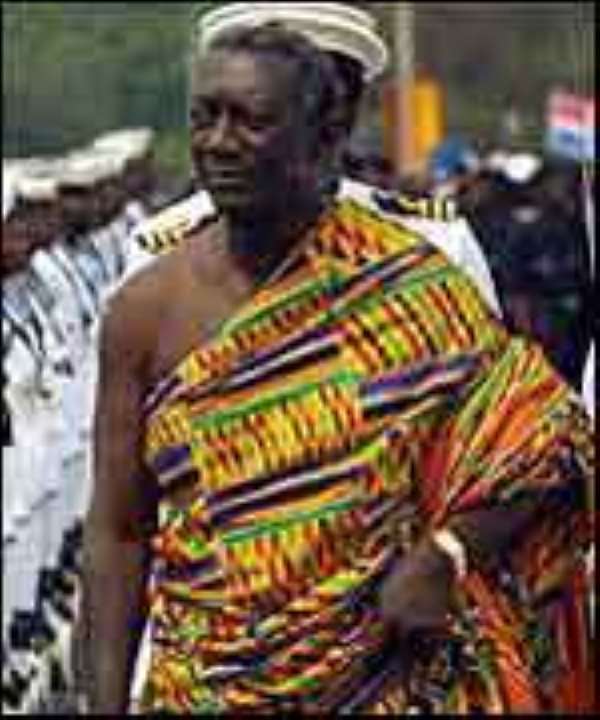 BAMAKO, December 13 -- President John Agyekum Kufuor has appealed to his colleague African leaders to show stronger resolve to move the continent out of conflicts and instability. It is imperative that conflicts and instability in our region become things of the past to enable us to commit our energies to economic advancement."
President Kufuor said the way to achieve this was through the promotion of good governance, respect for individual freedom and the administration of justice.
He was responding to a toast at a state banquet held in his honour by his Malian counterpart, President Amadou Toumani Toure, on Tuesday in Bamako.
President Kufuor is on a three-day state visit to renew the historic bond of friendship that has existed between the two nations over the years.
He is accompanied by the Foreign Minister, Nana Addo Dankwah Akufo-Addo and some other senior government officials.
The President recalled the relentless struggle waged by late President Kwame Nkrumah and his peers like former Malian President Modibo Keita for the emancipation of the continent and their vision of a free, united, strong and prosperous Africa and said he was happy that their efforts had not been in vain.
"Despite the challenges confronting our continent, we can state with some certainty that Africa is indeed on the right path towards re-positioning of its countries' economies for growth and sustainable development."
He praised the government and people of Mali for the rule of law, human rights and good governance as well as the country's role in efforts towards conflict resolution and crisis management in the continent.
Ghana, he said, would continue to collaborate and work with it within the Economic Community of West African States (ECOWAS), the African Union (AU) and other forums to help to restore peace and security to the region.
President Kufuor also spoke on Ghana/Mali relations and said there was an urgent need to reactivate their Permanent Joint Commission to constitute the requisite framework for their enhanced co-operation in trade, tourism and investment promotion to improve the living standards of their peoples.
President Toure said the visit had revitalized the relations between the two countries that dated back to the 1960s.
Ghana was the first country to establish diplomatic relations with Mali at its independence in 1963.
He commended Ghana for its sound macro-economic management that enabled it to qualify for substantial United States development assistance under the Millennium Challenge Account (MCA).