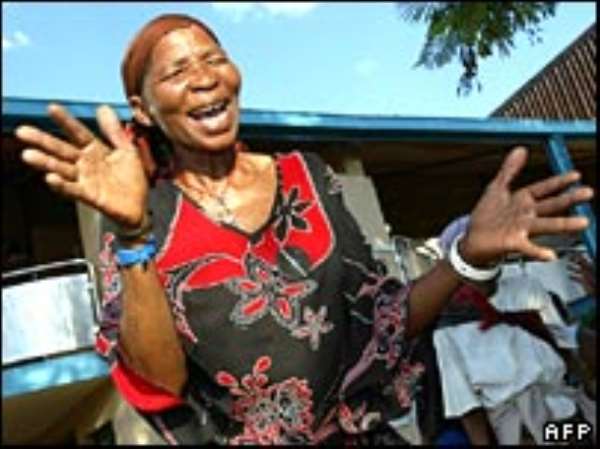 There were jubilant scenes after the verdict was finally announced
GABORONE, Botswana (AFP) - Hundreds of Botswana Bushmen who have won a temporary reprive against eviction from their land are now calling on the government to recognise their settlement, a rights group said on Wednesday.
Speaking after a court barred President Ian Khama's government from removing around 600 bushmen from a compound in Ranyane, in the north east of the country, the group vowed to press for further recognition.
Keikabile Mogodu, the director of the Bushmen rights group, Khwedom, called on the government to recognise Ranyane and provide basic services.
"We are not moving from Ranyane, it is our ancestral land. We are determined to fight for our land," said Mogodu.
The threatened minority group live off the land, hunting and gathering, grow their own food, and have limited access to health care.
According to Survival International, the government of Botswana wants to remove the Bushmen to make way for a wildlife corridor that would link the Central Kalahari Game Reserve and the Kgalagadi Trans-frontier Park.
The court ruled that further attempts by the state to resettle them should be communicated with their lawyers.
Survival International has vowed to fight for the rights of the threatened minority group, whose population is believed not to exceed 100,000 across Botswana, Namibia, South Africa and Angola.
Botswana has in the past been widely condemned for its treatment of the Bushmen who have lived in southern Africa for tens of thousands of years.