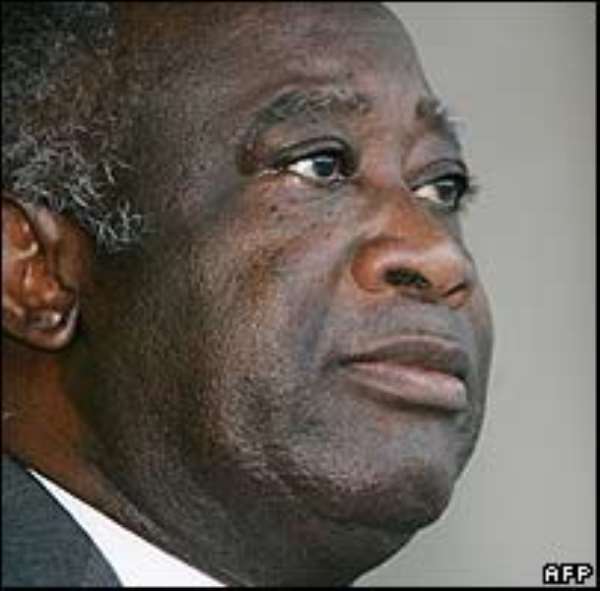 The coup was planned for between 12 and 17 December, officials say
Ivory Coast armed forces say they have uncovered a coup plot aimed at senior army and political figures, including a plan to kill President Laurent Gbagbo.
In a televised statement, an official said the plot was hatched by a local politician, with the help of what he called a foreign military force.
Ivory Coast has been split in two since rebels seized the north four years ago.
Correspondents say government loyalists accuse France, with 4,000 troops in the country, of aiding the former rebels.
'Militant personality'
The text, read on national television by army spokesman Colonel Babri Gohourou, said: "The course of action included political assassinations of authorities and military chiefs, in particular the president of the republic [and] the armed forces chief-of-staff."
Col Gohourou said the coup plot mastermind was "an active militant personality within a local political party" and that he was "under the protection of his sponsors" in Abidjan.
The plan was to stage a coup between 12 and 17 December "with the support of a military force present in Ivory Coast", he continued.
However, the Ivorian armed forces statement did not give names or announce whether they had made any arrests.
There are nearly 4,000 French peacekeepers in Ivory Coast alongside 7,000 United Nations troops, most patrolling the ceasefire line between north and south.
The BBC's James Copnall in Abidjan says the president's supporters have frequently accused France of supporting the former rebels, known as the New Forces, who control the north of the country.
There has been no major fighting since November 2004, but the peace process has stalled.
Tensions are high too as the president and the internationally-appointed Prime Minister, Charles Konan Banny, are engaged in a very public squabble for power, our correspondent says.