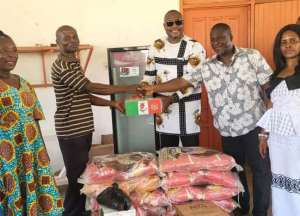 Dr. Kwamena Minta Nyarku, Member of Parliament for Cape Coast North Constituency has donated 50 pieces of 5kg rice, 50 bottles of cooking oil and 50 pieces of tin tomatoes to the Cape Coast branch of the Ghana Society of the Physical Disabled to climax activities for the year 2022.
The donation event was held at the Cape Coast Hotel on Friday 30th December, 2022 to end his activities for his second term as the Cape Coast North Member of Parliament.
Ragga as he is affectionately called apologised to the Ghana Society of the Physical Disabled, Cape Coast Branch for delaying their donation that was slated on his birthday, 7th December.
"I ought to have done this a little earlier but happy that I've been able to do it this time as we prepare to usher ourselves into the new year. It gladdens my heart to be in a position to support the less privileged and please accept my token gift to you," he stated.
According to him, this year's birthday has seen him donating 100 dual desks to 10 selected public basic schools within his Constituency and 16 hairdryers to the Abura Chapter of the Ghana National Hairdressers Association.
"I'm doing all these to support relevant groupings within my constituency which fall under my empowerment initiative. A well functioning constituency is dependant on each and everyone of us to contribute our quota in supporting the economic activities of the constituency," he noted.
Receiving the items, the Chairman of the Cape Coast branch of the Ghana Society of the Physically Disabled, Ato Anaman supported by Regina Bardii Vice Chairperson, Regina Mensah Women's Wing Chairperson and Joseph C. Quaicoo, Treasure said "We are all much appreciated to Hon Kwamena Minta for this wonderful gesture".
The society chairman added "This has really brought joy and smiles to the Disabled fraternity in the Cape Coast branch and the rest should emulate this kind gesture by the Hon. Kwamena Minta who is the MP for Cape Coast North. May the good Lord bless him as well as his future endeavours".
He also on behalf of the society thanked the MP for Cape Coast North for supporting all of them including those who are outside his constituency.
He prayed for God's blessings and guidance for Dr. Minta Nyarku and encouraged him to do more to uplift more lives. "Your leadership of support and service has been noticed and you shall be rewarded appropriately," he ended.