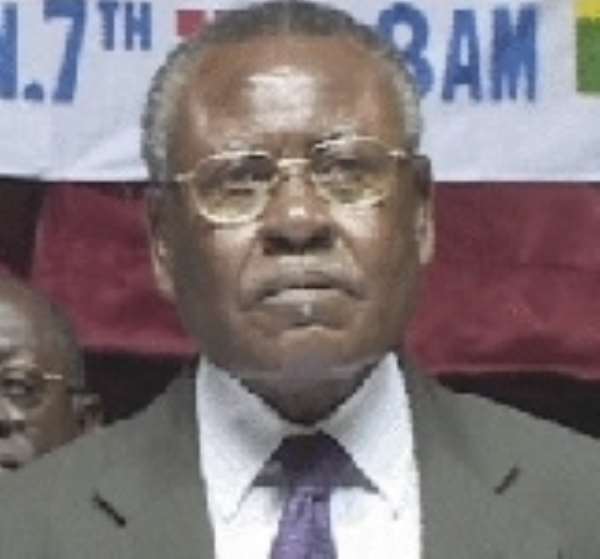 Information reaching Daily Guide indicates that certain gurus in the ruling New Patriotic Party ( NPP ) are dragging the godfather of contemporary Ghanaian politics and Senior Minister, Mr. J.H. Mensah, into the NPP presidential race.
A close confidante of the evergreen 78-year-old politician told the Daily Guide in London that Mr. J.H. Mensah, who contested the NPP flagbearership in 1998 alongside the President, Mr. J.A. Kufuor, Dr. Kofi Konadu Apraku, Nana Akufo Addo, Mr. Kofi Adu, Dr. Dsane Selby and Malik Alhassan, would be the best candidate for NPP in 2008.
"J.H. is coming and will beat all those who have so far declared to contest, with experience and level-headedness," the source said.
According to the confidante, Mr. J.H. Mensah would surprise everybody because many had thought he was finished in politics, only to realise that he was rather out to launch his career now, as the best material for the presidency.
And the Septuagenarian, the confidant believed, would not lack support.
"All the grassroot people are waiting for him to declare his intention to run, that they may throw their full weight behind him, because they know the stuff he is made up of," he said.
Mr Mensah, Finance Minister during the Busia regime, from 1969-1971, had never hidden his intention to become president of Ghana some day.
He went into exile after the overthrow of the Busia regime.
Dring the rule of the Provisional National Defence Council (PNDC) he was accused of importing arms from Brazil to overthrow the military government.
When Daily Guide contacted him however, he said he would not dabble in media speculation.
"I will not tell you anything; if I have something to say, I do say my mind," he declared.
He admitted knowing the confidante, but told Daily Guide, his confidante was coming back to the country next month, so the paper should confront him with further clarification on his supposed intention to run, since as far as he was concerned, he had not discussed any such thing with anybody.
When pressed further, he said he was not ready to speak, stressing nevertheless that such an intention had not occurred to him.
On what he thought about the large number of candidates so far, he only said "I did not put them all up."
He said if he had anything to say concerning those in the NPP race, he would not hesitate to do so, because he always spoke his mind.