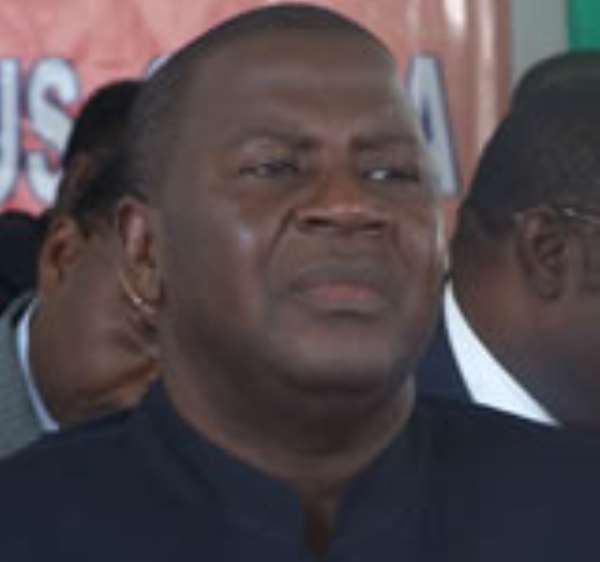 Vice President, Alhaji Aliu Mahama on Friday suggested the need for producers of local smocks to use Information, Communication and Technology (ICT) innovations to enhance their products design to increase productivity.
He said the use of ICT could also facilitate the appraisal of various material colour schemes; investigate alternate competing products and how they were manufactured.
Alhaji Mahama made the suggestion when he cut the sod for work to commence on a multi-million cedi Ghana Community Network Services Limited (GCNET) ICT Centre in Tamale.
He said through ICT, smock producers could investigate potential clientele and markets, how best to reach them as well as the national or international standards for the sale of products or services.
"My dear brothers and sisters of Tamale, these are some of the possibilities that the development of ICT centre here portends," he said.
"I wish to give a note of caution that whilst ICT is largely positive, it has a few negative side effects. This manifest itself primarily as negative information put on the Internet in the form of hate mail, pornography and violent or extremist material," he added.
Alhaji Mahama was optimistic that the project would promote the positive use of ICT to accelerate development.
He said: "ICT has become a critical component of national development, whilst ICT served as an enabler for economic growth and development in both developed and developing economics, for those of us in the developing world its potential for improving living standards is enormous."
Alhaji Mahama said Government had adopted a national ICT policy backed by the preparation of a draft Electronic Bill to provide requisite legislative framework that would govern ICT development and usage.
Mr Nortey Omaboe, Executive Chairman of GCNET, said the company had supported revenue mobilisation, trade facilitation and e-governance.
He said GCNET provided trade solutions through the deployment of ICT as well as substantial investments in hardware and software totalling almost six million dollars.
Mr Omaboe said citing of the project in Tamale was because ICT infrastructure was relatively limited in the area in spite of the enormous opportunities available.
The ICT project is part of GCNET corporate social responsibility. Vice President Alhaji Mahama also inaugurated a 1.1 billion-cedi Police Station at Sakasaka, in the Tamale Metropolis for Ghana Police Service.
Sakasaka is noted to be a flash point and the presence of a Police Station would help enhance security of the people.
The project was jointly financed by Tamale Metropolitan Assembly and Canadian supported District Wide Assisted Programme.
Alhaji Mahama noted that security was one of the ingredients in life that must not be toiled with and called on the people to cooperate with the Police to give them maximum security.
He said: "If we look within ourselves, we would know our enemy. Our enemy is poverty, disease and squalor and we must combine efforts to fight them."
Alhaji Mustapha Ali Idris, Northern Regional Minister, urged the youth to brace themselves up to exploit the opportunities inherent in ICT.
In another development, Bambawia Tarikatu Tijania Society, a Moslem Sect in Tamale on Friday honoured Vice President Aliu Mahama for his exemplary leadership and dedication to duty.
It offered intercessory prayers for President John Agyekum Kufuor, Alhaji Mahama, the Government and nation.
Alhaji Mahama thanked the society for the honour and appeal for peace and unity particularly in Dagbon and Ghana.
He stressed the need for peace among Muslims, inter and intra religious tolerance among religious organisations in the country to sustain peace.
"Peace and unity are necessary ingredients for development, without which life becomes meaningless," he added.