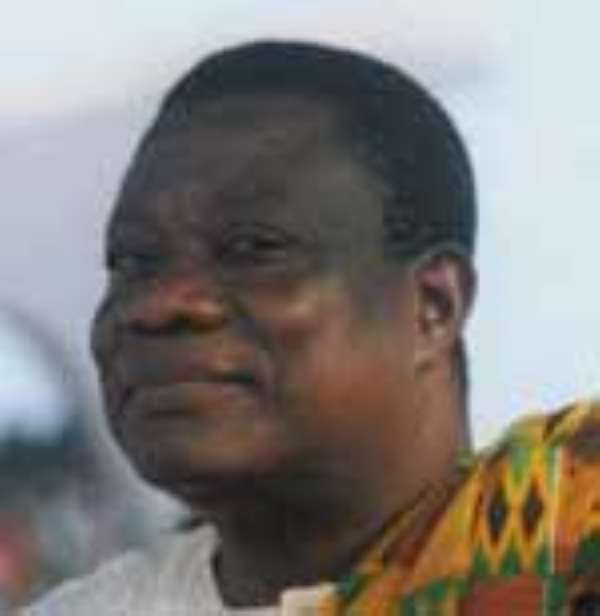 Prof. John Evans Atta Mills, the man who will obviously emerge as the flagbearer of the opposition National Democratic Congress (NDC) come the party's congress on December 21, and lead the party to another disastrous electoral outing, was on Wednesday, given the green light to run as one of those wanting to lead the party for the 2008 elections.
This followed his ability to fulfill the payment of the ¢100million nomination fee and being able to go through other documentary requirements stipulated by the party. So where and how did the Prof. get the ¢100 million? This for many may people, may be a trivial, irrelevant and possibly, an irresponsible question. But to some of us, it remains a legitimate question that requires a prompt answer from the respected and peace-loving Associate Professor of Law.
I am not the least trying to suggest that the money might have been obtained through an illegitimate means because I know the Prof. remains a clean man when it comes to issues of corruption. But I am asking the question against the backdrop of he being someone not known to be working for sometime now and also, having definitely incurred some medical costs during his recent treatments in South Africa and presumably, other parts of the world.
After taking up a teaching appointment (or was it a fellowship?) with a Canadian University soon after his first electoral defeat in 2000, which lasted for a year or two, the Prof. has since been jobless and known not to have much as far as money is concerned.
In fact, there is still a debate over whether he had enough vehicles for his campaigning though his campaign team, mainly led by the boisterous duo, Ayariga and Nii Lantey, has insisted that Mills' campaign has not suffered any financial hiccups.
In fact like President Kufuor recently advocated, presidential aspirants ought to be well scuritized. This is why it is important for the learned Prof. to explain how he came by the tenth of a billion at a time he is known to be jobless, to gamble for the presidential ticket of the party he has led on two occasions and lost in both.
If the money came from friends, he should tell us. If it was mobilized by his fans within the party, we ought to know. If it came from his pocket, we deserve to be told. Spio-Garbrah might have used monies earned from his job with the International Telecommunications Organization as its Chief executive to pay. Or better still, proceeds from his farms in the Central Region could have been the source. As for Eddy Annan, there is no need mentioning him in this context. He could have paid whatever amount Gen. Mosquito and his men had asked them to pay. Mahama Iddrisu, the Alhaji from the Upper West Region, I am told is hundreds of millions rich and this is known to many.
Resourcefulness should be one of the cardinal qualities of a president and a presidential candidate for that matter. It is therefore important to assess what persons aspiring to be president of the nation have archived in their individual capacities or collectively with others. This is why the question of Mills' ¢100 payment comes in. This is an opportunity I have decided to offer to the Prof. to enable him dispel the notion that he is personally cash-trapped and thus raising questions about his resourcefulness. So Prof. how did you get the money?